Back in June we put the power to you and asked you to vote for what beer we should brew as our next limited release. You voted for a Pomegranate & Guava Sour, and so we brewed a Pomegranate & Guava Sour! Introducing, ​​​​​​​SPRING SUIT!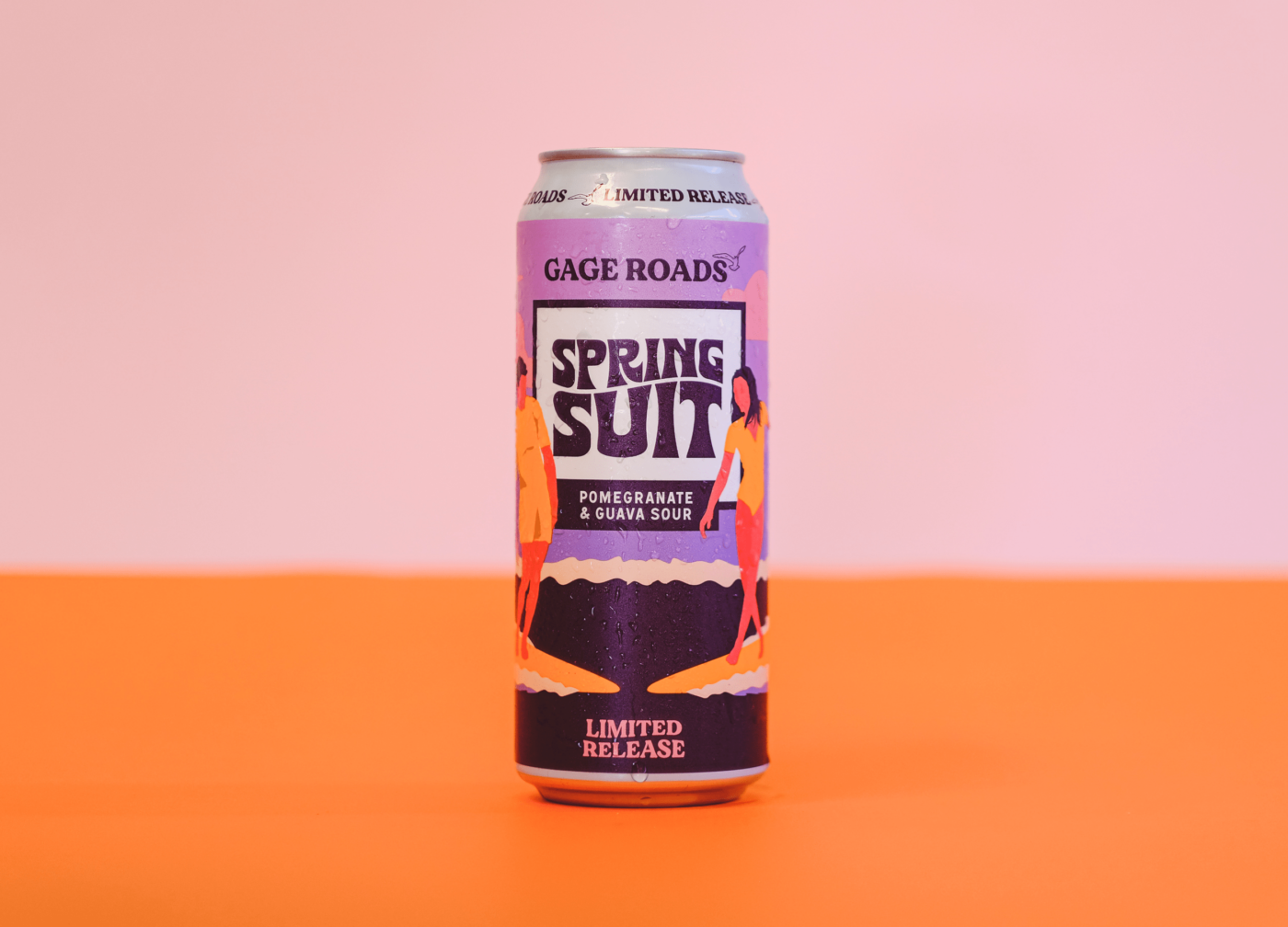 This 3.8% ABV springtime sour brings juicy red fruit flavour from real pomegranate and guava. Brewed in a traditional Gose style, coriander seed and sea salt add a refreshing crisp finish that'll keep you wanting more.
"The brew team loved getting to work on this brew. Combining a traditional style with modern-day flavours, this sour is juicy and tropical, with slight smack of salt on the tongue. Brewed with real fruit, Spring Suit is refreshing, tart and well-balanced. Pouring light red with a pink hue, you'll be reaching for a few this Spring," says our head brewer Ross Brown.
Here for a good time not a long time, Spring Suit comes in 500mL tall-boy cans and on tap across WA. Check out our stockist list below track down your nearest Spring Suit! We recommend calling in to make sure they have stock before making a special trip.
ON TAP
Gage Roads Freo
Quarter Acre
Jetty Bar
Mulberry on Swan
Federal Hotel
Old Synagogue
Left Bank
Clancy's Canning Bridge
Clancy's Fremantle
Balmoral
Percy Flint
Indigo Oscar
Grand Central Tavern
Wembley Hotel
Sound Brewing
The Brook Bar & Bistro
The Norfolk
Country Comfort Belmont
Hotel Rottnest
Cottesloe Beach Hotel
Sail & Anchor
The Local Hotel
8 Knots
The River
Gerald Apartment Hotel
Indian Ocean Brewing Co
Jindalee Beach Shack
Brixton Yard
Besk
Edward & Ida's
The Bird
Ruin Bar
Pica Bar
The Fenway
Foxtrot Unicorn
Subiaco Hotel
Village Bar
Hampden Hotel
Smalls Bar
PACK
Gage Roads Freo
Karalee On Preston
Wray Hotel
Liquor Barons Alkimos
Cellarbrations Candlewood
Liquor Barons Kinross
Liquor Barons Connolly
Cellarbrations Clarkson
Thirsty Camel Whale And Ale
The Ashby
Kewdale Tavern
Cellarbrations Helena Valley
Cellarbrations Carlisle
Cellarbrations South Guildford
BottleO Forrestfield
Liquor Barons Wattle Grove
Liquor Barons Kalgoorlie
Stirling Arms Hotel
Round The Corner
Boab Tavern
Cellarbrations Lesmurdie
Liquor Barons Carlisle
Cellarbrations Belmont
Darlington Liquor & Gourmet
Cellarbrations Mundaring
Copper & Oak Guildford
Good Grocer Shenton Park
Asquith Cellars
Mane Liquor Osborne Park
Cellarbrations Glendalough
Liquor Barons Nedlands
Claremont Specialty Cellars
Innaoo Specialty Cellars
Good Grocer Wembley
Wembley Hotel
WA Cellar Door Doubleview
Liquor Barons Leederville
Liquor Barons Wembley Downs
Cellarbrations Exmouth
Potshot Hotel
Denham Waterfront Hotel
Porters Mount Hawthorn
Osborne Park Hotel
Cellarbrations Yokine
Wine Box Nedlands
Liquor Shed
Cellarbrations Baldivis
Cellarbrations Safety Bay
Liquor Barons Broome
Whistling Kite
Greenfields
Mandurah Cellars Superstore
Liquor Barons Seascapes
Liquor Barons Wokalup
Stud County Tavern
Big Brews Warnbro
Oakford Traders
Big Brews Parkin Street
Cellarbrations Mundijong
Willagee Liquor Store
Cellarbrations Lynwood
Luckies Liquor Victoria Park
Crafty Corner Hamilton Hill
Haynes Bar & Grill
South St Ale House
Bellisimo Bar & Restaurant
Neighbourhood Bottles
BottleO Armadale
Carringtons Bar & Grill
Good Grocer Myaree
Liquor Barons Beaconsfield
Liquor Barons Bull Creek
Liquor Barons Riverton
Grand Cru Ardross
Bicton Cellars
Thirsty Camel Maddington
Cellarbrations Fremantle
Cellarbrations Huntingdale
Liquor Barons Applecross
Brentwood Cellars
Challis Liquor
Kardinya Tavern
Waverley Brewhouse
Cellarbrations Beeliar
BottleO Rossmoyne
The Gate Bar & Bistro
The Vale Bar & Brasserie
The Quarie Bar & Brasserie
St James Cellars
Liquor Barons Tambrey
Bottlemart Nollamara
BottleO Ballajura
Cellarbrations Kingsley
Thirsty Camel Chequers
Liquor Barons Maylands
Bottlemart Nollamara
Bottlemart Balga
De Vine Cellars Inglewood
De Vine Cellars Noranda
Down The Road
South Hedland Liquor
Northwest Liquor
Thirsty Camel Ellenbrook
Cellarbrations Ballajura
Liquor Barons Bayswater
BottleO Beechboro
Your Shout Liquor
Little Grove General Store
Liquor Barons Cowaramup
Castletown Liquor
Due South
Cape Cellars
The Pier Hotel
The River Hotel
Treendale Farm Hotel
Eaton Tavern
BottleO North Road
The Rose Hotel
Margaret River Liquor Merchants
Mount Barker Cooperative
Cellarbrations Donnybrook
Augusta Coastal Cellars
Jagga Daku Leederville
Mane Liquor Belmont
Good Grocer South Perth
Cellarbrations Mullaloo
Como Liquor Store
Liquor Barons Piara Waters