Hey Corbin, tell us a little about yourself.
I'm a 28-year-old artist, illustrator and designer. I grew up in the southern beaches of Sydney in a suburb called Cronulla. My Mum is from Taiwan and my Dad is a straight up Aussie! From both I found the two things that I hold closely to me. My mum taught me to embrace my artistic side, pushing me to draw/paint and become a graphic designer and my dad taught me to surf (which I am completely obsessed with). Especially a good left! I have worked for a lot of great companies in my years as a Graphic Designer. One of my earliest jobs was working for a skateboard company where I could draw all day every day. From there I went to K-Zone Magazine, Surfing World Magazine to my current job at Tourism Australia. I have had a lot of art exhibitions which included plenty of live painting events (solo and group shows).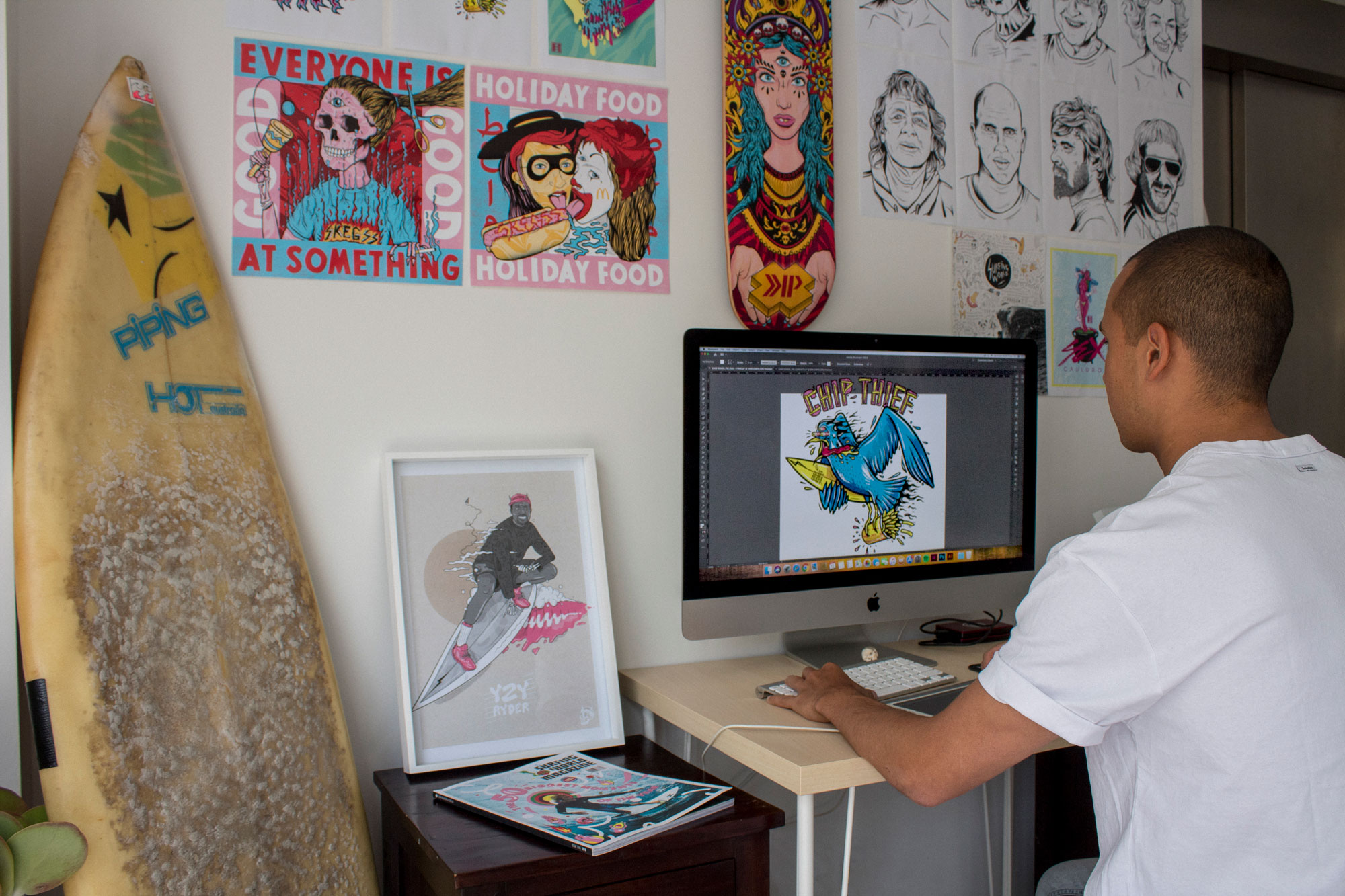 What's an average day in the life of Corbin Nash look like?
Let's look at an average work day… I get up, take 5min to get ready and jump on the joyous hour train ride to work into the heart of the city, where I work at Tourism Australia as a graphic designer. I drink a lemon and hot water to cleanse the soul, get thrown various last minute design jobs from all the departments in the organisation and throughout the day drink a copious amount of green tea. I have a late lunch in the city with my gorgeous girlfriend and by the time I get back to work there isn't many hours left in the day. Sprint to the station, take another hour train ride home. Decide whether it's time for the gym or a LARGO (Late Arvo Glass Off), but always a surf comes first before anything (only in day light saving). Have some dinner and do some freelance or illustration work until late.
And repeat!
How would you describe your drawing style?
I would say my drawing style is very bold, colourful and clean. I usually try to change my style and make it more natural and rough, but I tend to have a bit of OCD. I can't help but clean up the mess haha.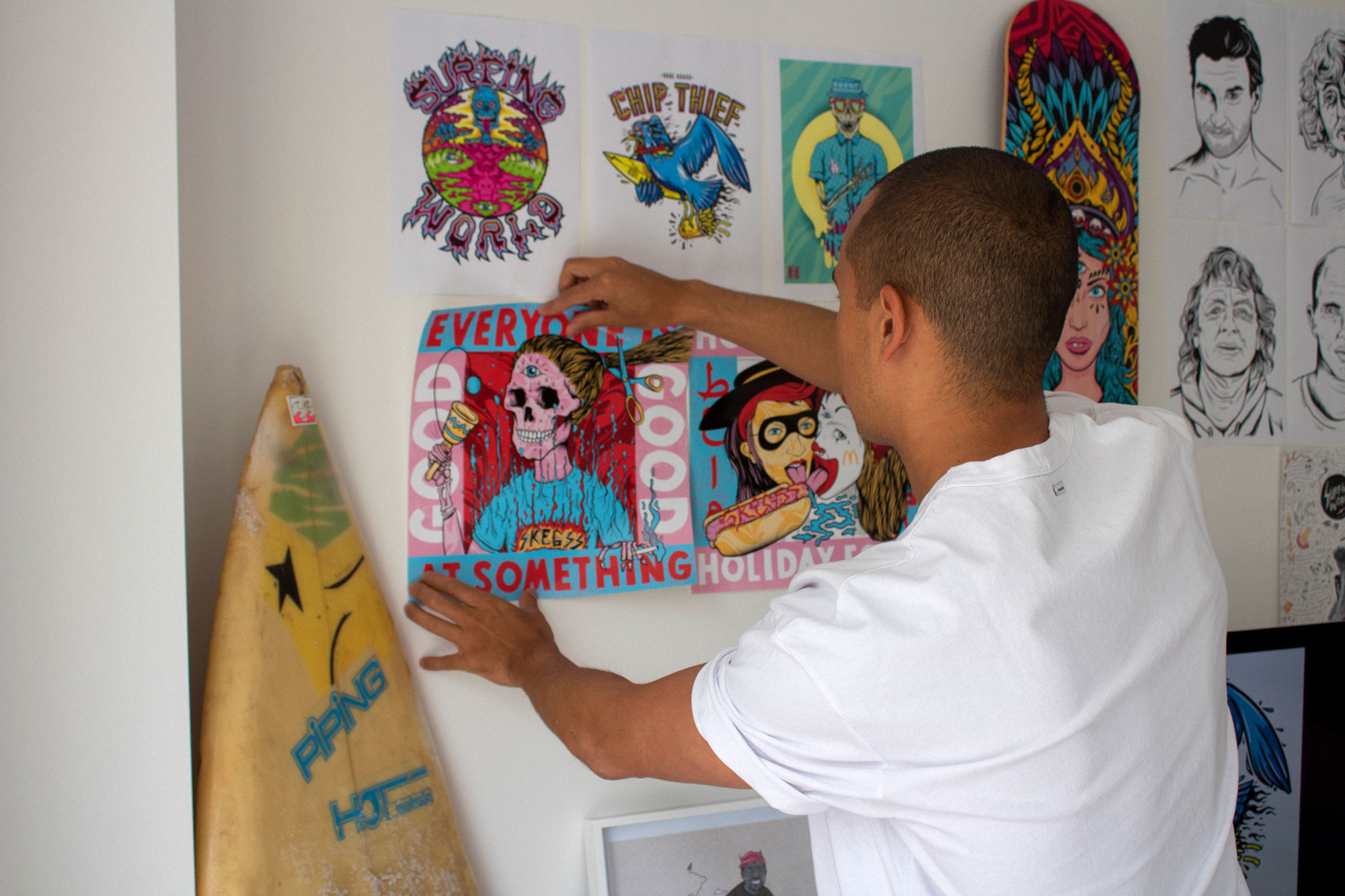 There is a real consistency of cultural elements through your work, how does this reflect your personality?
Depending on what artwork I'm working on. I try to incorporate subtle and sometimes not so subtle cultural elements into my artwork. Usually there isn't a lot of meaning to the elements as I am a pretty care free person. But a subtle hidden message in any artwork can make it that much more relevant and interesting.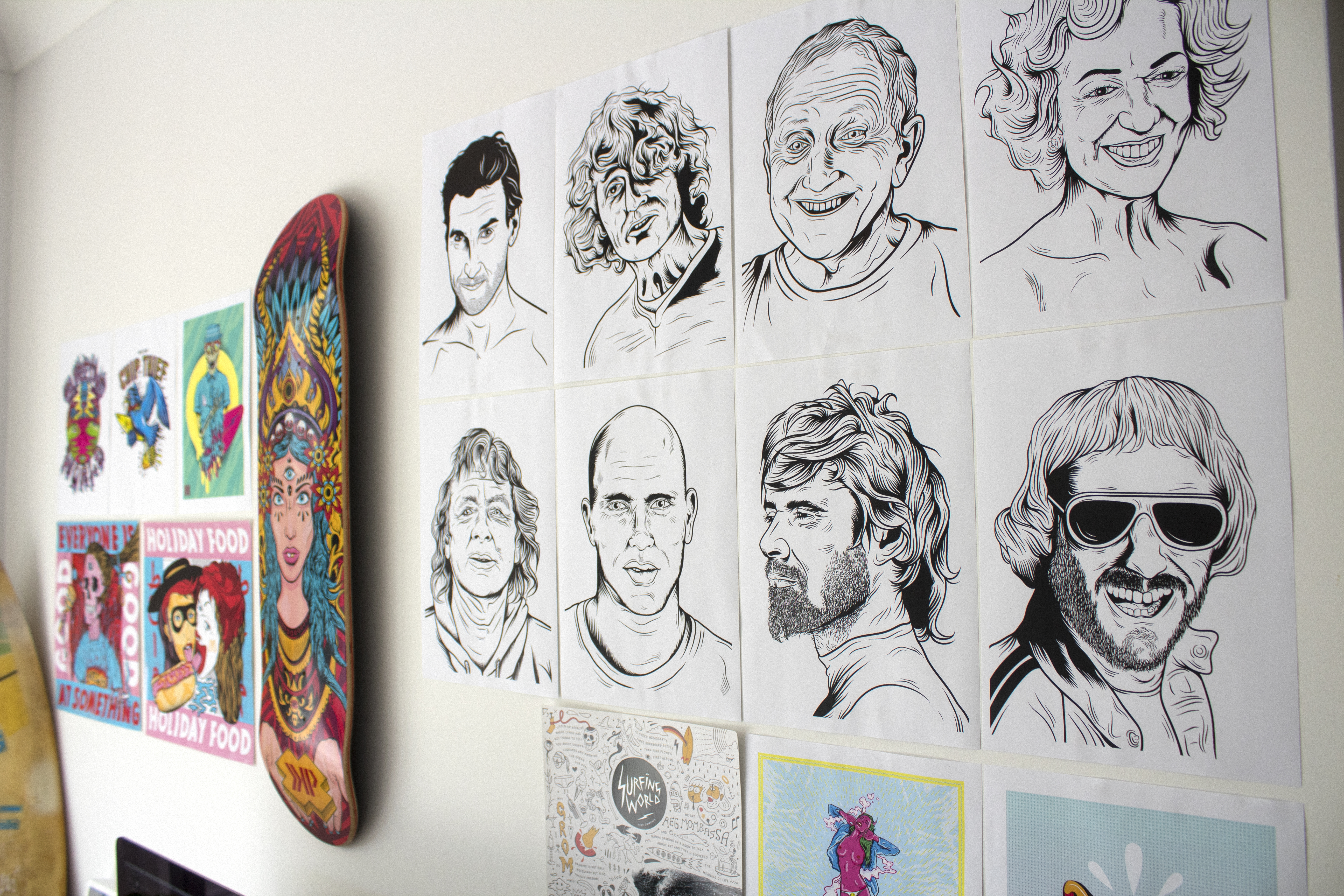 In your previous gig, you art directed Surfing World Mag, that must have been a ride?
Oh yes it was! I always say that it will be the best job I'll probably ever have. Not to say my other jobs are bad, but in comparison to working across from Avalon beach with a group of talented and creative friends, it's hard to come close. If we got the work done we could surf for as long as we liked. But in saying that some of the deadlines for the Mag were fierce! Finishing up at 1am – 5am was a norm and then we'd have to come back into the office at 9am to approve it. I'd always feel so relieved the next day when we got it off, but then we'd jump straight back into it, going through hundreds of surf photos for that next feature. I had a lot of creative freedom at Surfing World and had a great team to work with. Creative Director Denny Johnson, social media tycoon Hugh Wyllie and I got to work very closely with the editor Vaughan Blakey who is a complete madman! Blakey would always be able to reference great art and iconic album covers that I wouldn't have a clue about and always came up with crazy ideas that I wouldn't think would ever work but always came through looking great. It really was a fun environment to work in.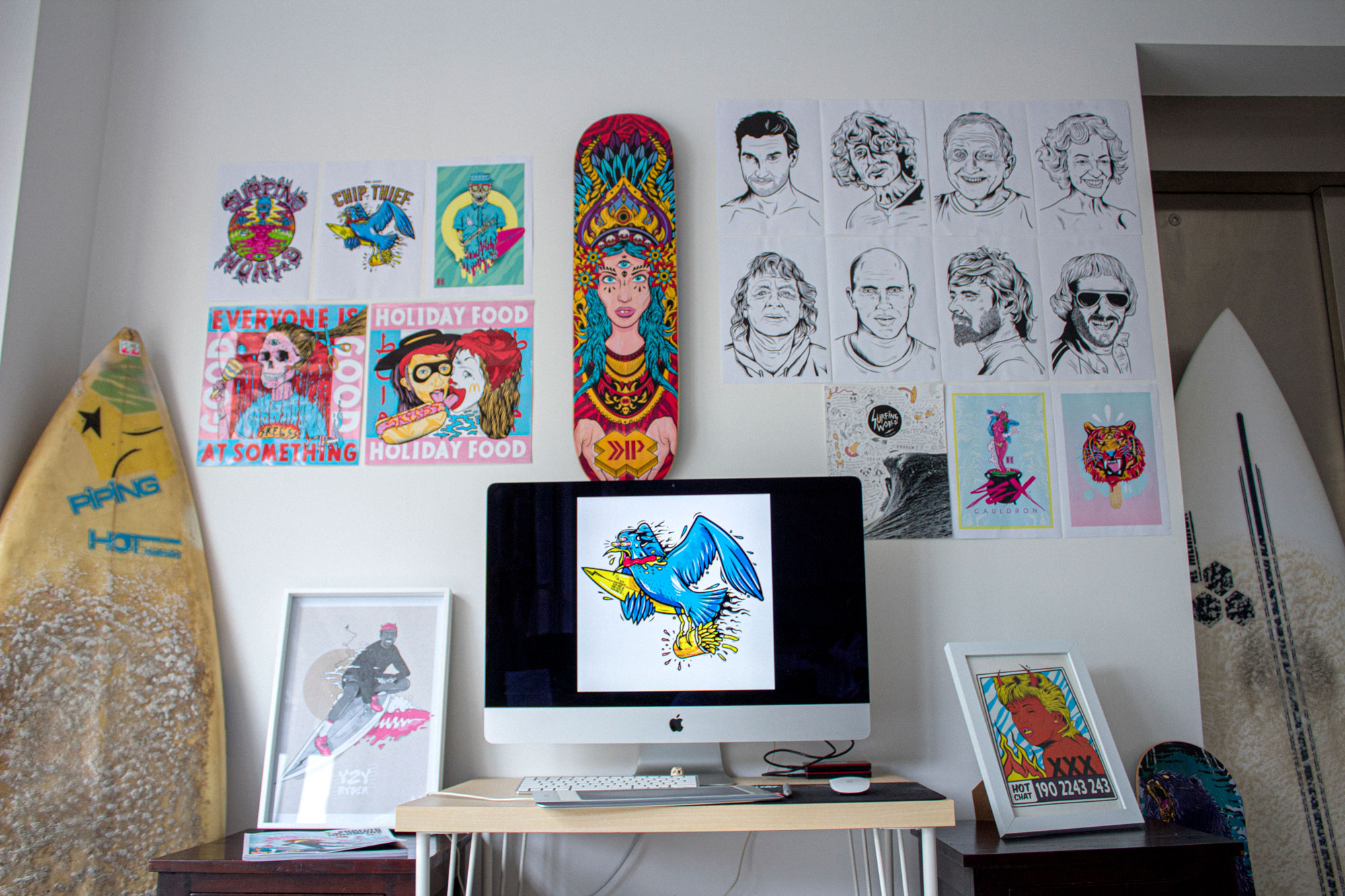 Who would you say is your biggest influence?
I have a fair few influences, but Reg Mombassa will be my original influence as a kid and still to this date. I grew up worshipping his Mambo artwork, and would constantly try to replicate it in my sketch books. I got to meet him for a Surfing World interview and I hardly spoke and wasted my time there haha. He's such an eccentric guy and his art process is incredible. Other influences are Jim Phillips, Ben Brown (who is a complete legend!), Barry McGee, Mcbess and so many more. I get very inspired by other artists and am constantly finding new artists to gain influence from.

Your style is defined yet free, what's your process?
I used to be very into freehand drawing in sketch books and then scanning the image and redrawing on the computer. But with the new age of digital drawing I have become somewhat lazy and do all my drawing straight onto the computer. I usually will reference a few pieces for inspiration and then do a very rough sketch with my Wacom Tablet in Adobe Illustrator. Once I'm happy with the sketch or I can picture in my mind where the artwork is going to head I will start to really get into the detail. Always using thick black lines and then coming back to a finer brush, and finishing with colouring and textures. I don't know what it is, but every single time I do an artwork, about half way through I hate it and want to abandon it. But I never do and am usually happy with the outcome.
Who would win a fight between a taco and a pizza?
Taco for sure! Imagine a taco ripping off some of its hard shell and stabbing that flabby pizza dough.