It's 9.30am on a Wednesday, and as the weight of hump-day morning tries to take hold, I'm in luck. Luke from Twin Peaks Coffee Roasters passes over a cup of the good stuff.
"What kind of host would I be if I didn't get you a coffee to start?"
His timing is bang on. Not only that, but this brew is bloody good. As I sip away, Luke explains that what I'm tasting is an upcoming limited release, with a few bags of beans sourced from a small producer in Colombia. He describes it as juicy. And he's dead right. Not overly bitter, this brew has a ripe, yet balanced sweetness. It's a pretty good way to kick start a Wednesday.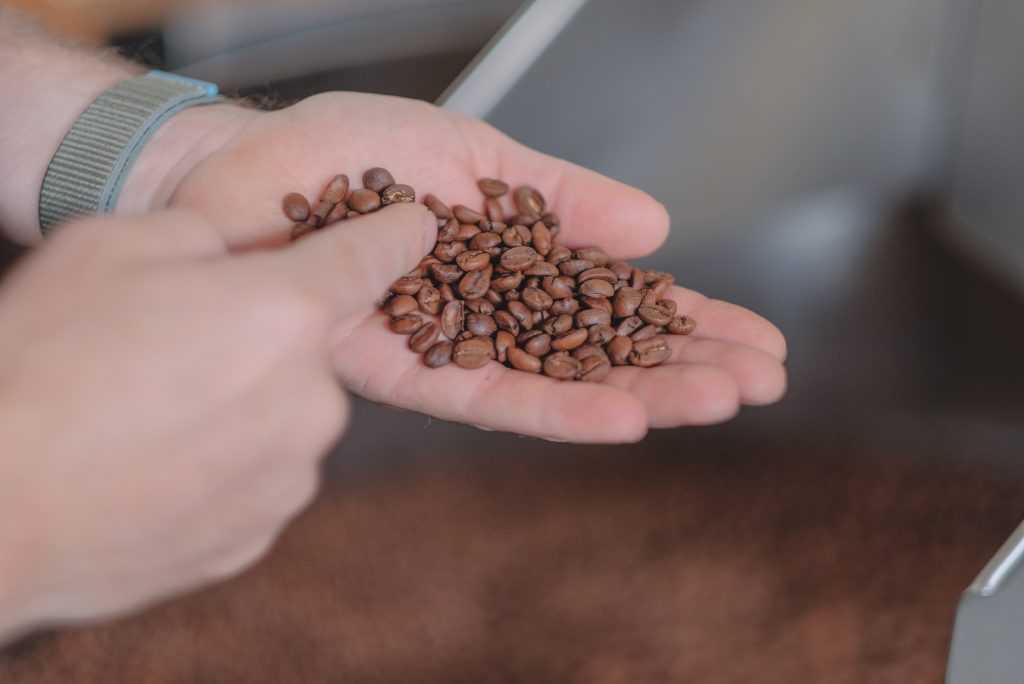 Like pretty much every day of the year, Luke is here at Twin Peaks HQ with his mate, and owner Tom Greene. While we're enjoying our caffeine hit, Tom explains the range of their staple brews and limited varieties.
"We have a small core-range of our flagship offerings, being our blends. That's your bread and butter, for the day-to-day milk coffee drinker. But we also pride ourselves on our micro-lot program, these are higher end coffees that are predominantly roasted for black drinkers in mind. They're single producers, single farms and often lot separated from a larger lots and processed in a myriad of ways. It's such an awesome challenge and keeps it very exciting, and we do find ourselves partnering with those producers again, year in and year out," explains Tom.
Brewers and roasters are peas in a pod
While we chat, it's quick to see that coffee roasters and brewers share a lot of the same qualities, and the gigs have a fair bit of overlap too. It extends far beyond core-range and limited release brews. There's a romantic dance between science and gutfeel. Trusting both is important. I see that when Tom shows me how the roaster works. Taking 30 kilos of beans at a time, the stainless-steel machine is hooked up to two screens – both spitting out numbers and graphs while beeping warnings and instructions. It reminds me in some ways of the brewery control room, where brewers monitor the goings-on of the brewhouse. Both screens look like life-support machines and in many ways monitor the health of what's being created inside. However, despite all the data in the world, you always essential to roll up the sleeves, take a look inside and taste the product at different stages. That's often the best judge of where things are at.
Brewers and coffee roasters are also dedicated to hunting down the best raw ingredients. Much like Gage head brewer Ross Brown heading to Yakima Valley in the US for hop harvest, the Twin Peaks lads have ventured to South America to meet with local coffee farmers, finding the best beans and learning more about the whole process.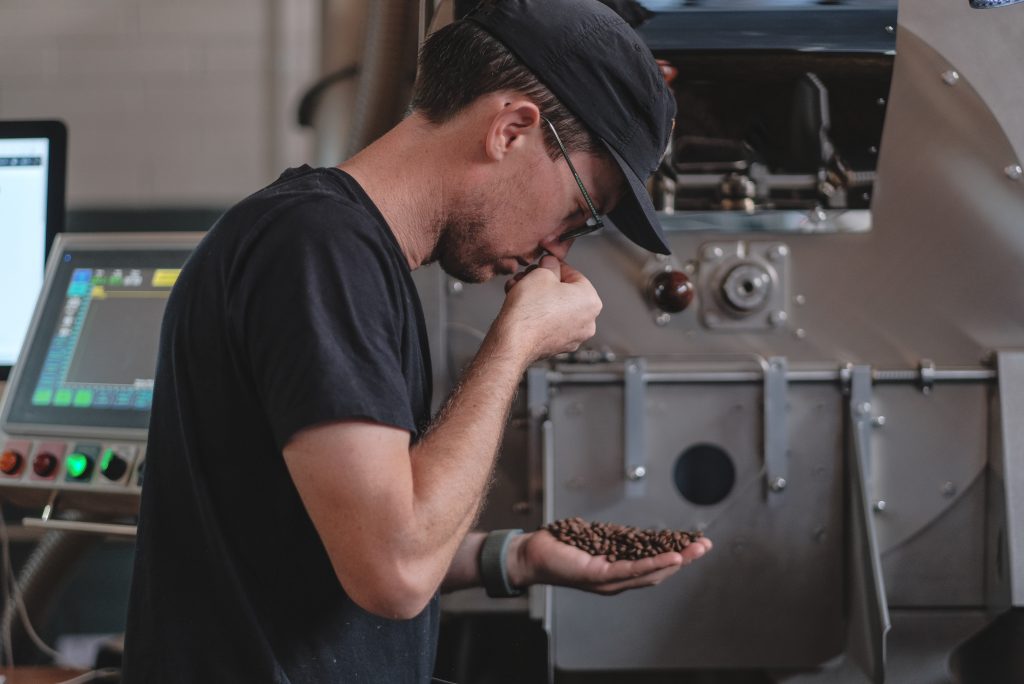 "It's quite a direct relationship. Since 2017, we've been able to be more connected and closer to origin for coffees such as the Brazil Sertao that we've used for Dawn Patrol," explains Tom.
Luke explains that these pre-Covid trips really helped to grow and shape understanding of not only the product, but the people behind it.
"Once you get over there it's a whole new world. Being there and seeing the agricultural processes on the ground is eye-opening. Being there in the flesh and seeing coffee grow and eating ripe coffee cherries on the tree is a pretty cool experience."
Ross says there are similarities in technique, as well as procurement.
"There's some crossover, as far as how they analyse the coffee samples, with the sensory techniques they have. Also, when you're dealing with a natural product like that, there's definitely some parallels with what Twin Peaks do and what we do, when sourcing our raw ingredients," says Ross.
With the roaster howling away in the background, the room is starting to heat up. Hoodies have no place here, even at this time of year. With our coffee cups empty, it's time to test the reason we're here. Beer!
Coming together for a Dawn Patrol
Gage and Twin Peaks have teamed up to release the limited edition, Dawn Patrol Breakfast Stout. And this one's been a bit of a journey. Dawn Patrol was the public vote winner of the Gage Roads "You Vote, We Brew" competition, where thousands of beer lovers decided our next limited release. With the election over and the result confirmed, it was time to get to the beer. After getting together with Twin Peaks, the next few months involved catch up over coffee and beer, with chats around flavour, process, technique, and brewing. There were also tastings. Lots of tastings. Tough bloody work.
Gage head brewer Ross Brown says the process was a heap of fun.
"Teaming up with Tom and Luke from Twin Peaks was an awesome experience. The guys are as passionate about their coffee as we are about our beer. The collaborative process of selecting the coffee blend, assessing the flavour profile of different coffee brewing methods and then scaling up to brew 200kg of Twin Peaks coffee at the brewery was amazing!
"It's tricky trying to work out what process we were going to use. Going through that tastings, we had a look at a couple of set-ups that we thought might work… it's always interesting trying to adapt our processes for something that we don't normally do.
"We have a couple of vessels at the brewery with steam jackets that we can use to control temperature. We basically made a whole heap of coffee bags full of the coffee grinds, heated the water, added the coffee in, agitated it, and we just tasted it through the process. When we were happy with where it was, we transferred it and crash chilled it down to two degrees," says Ross.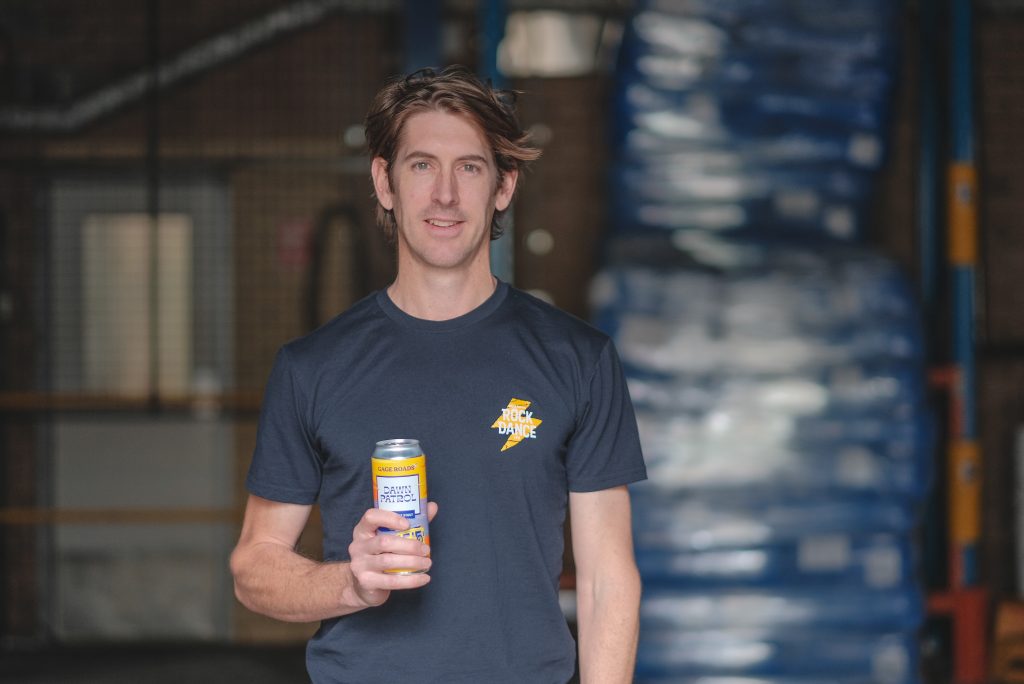 When asked about how it all went for him, Tom has two words.
"Bloody awesome!
"It was such a good collaborative process. We were coming at it from a very coffee angle, day in, day out we just taste coffee. Different coffees, different flavours, different roast profiles but to be able to then shift a bit to collaborate with another brewer to produce a different flavour profile and how that coffee is going to marry with the oats, or the cocoa nibs as well, was really interesting and fun. It was just a great process.
"For this beer we needed a coffee that provided a rich backbone, good structure, low acid and loads of chocolate. Immediately we went to the Brazil Sertao (coffee) that we use day in day out. What it adds to our core range, our Profiler and Deli blends, is similar to what is brings to this beer."
So what's it taste like?
It's fair to say, everyone was pretty happy with the results. With some old school Jazz filling the air in the background, we crack a few cans and have a taste.
"We're super stoked with the final product. It was amazing to be able to taste the beer and coffee individually, and then to see how it married together. To taste it today was awesome. You get the chocolate, the toffee notes… it's really robust. The oats deliver that velvety mouthfeel. There's good aroma and I even get this cola texture type element that's surprising, but I really like it."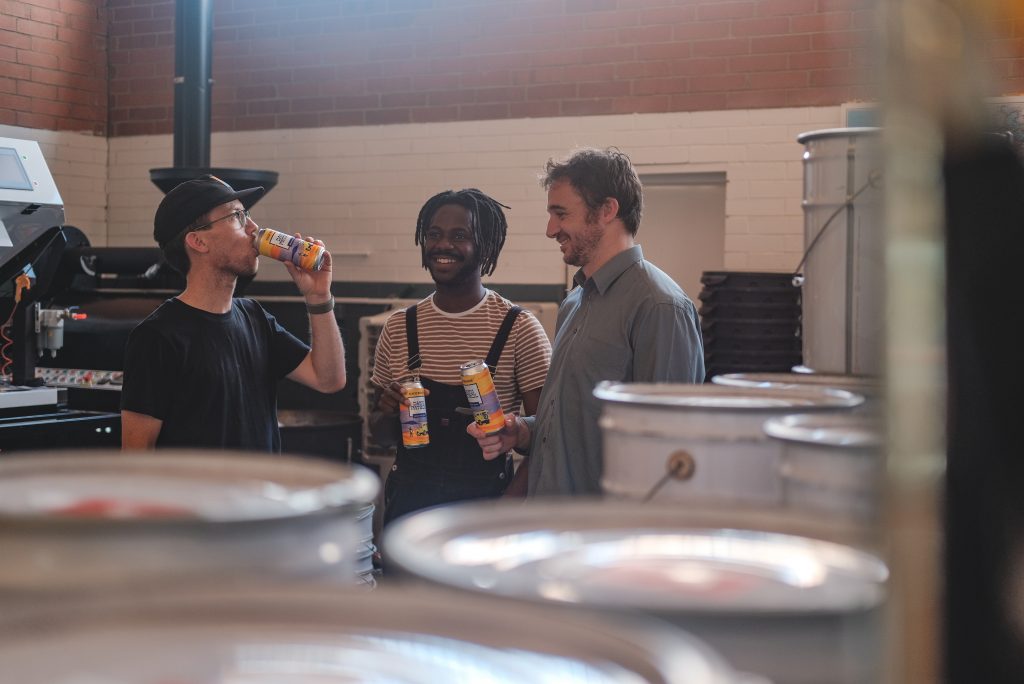 Luke is equally impressed, noting how each individual element shines through.
"I'm blown away. This is the beer you want for this type of year. It strikes a great balance between something that's chocolatey and rich, but still very drinkable. It's sessionable… and you can really taste the individual elements that are coming together."
"We wanted a robust flavour. I think the big thing is that amazing coffee aroma that it hits it off with. I think the malt we included also has some of those really nice roasted coffee, mocha and chocolate type of characters as well, it's amazing what you can get out of those raw ingredients. I think there's a really nice bitter-sweet finish to it as well, and a really nice velvety nice mouthfeel from the huge amount of oats we put in it too," says Ross.
Early days in mum's back shed
After a few beers, I ask Tom about the early days. He explains that Twin Peaks started back in 2014, and before their current Morley set-up, the business was run from a space where many businesses find their feet.
"I bought a roaster, put it mum's shed and spent most nights learning to roast. It was as simple as that. Twin Peaks came about from an obvious place, a love of coffee. But it was really born and bred out of a coffee shop I owned. I wanted to take that plunge and learn more about the craft.
"People really got on board and embraced a new thing for us. The more that we evolved, our product improved and our core ethos developed over time. We've had café partners over seven years now, and they've grown with us… not just within their own walls but with their coffee program.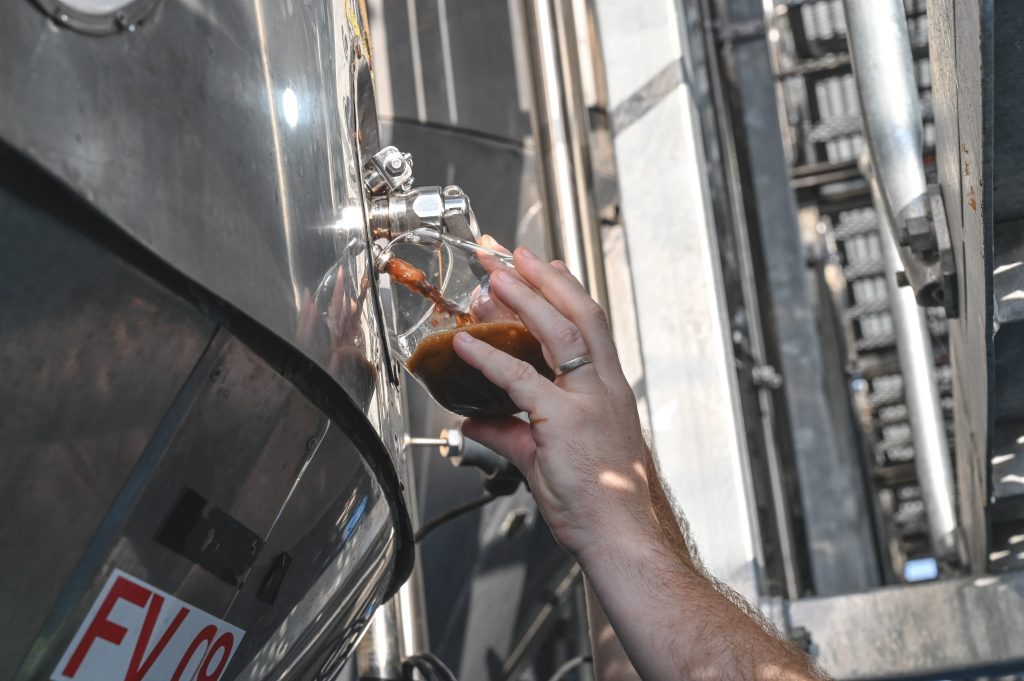 "I think I just fell down a rabbit hole of hospitality and then into coffee, just by asking question after question after question. I realised there is so much here to learn… but you enjoy the taste, the culture and relationships built. Whether it was customer to producer, or farmer to roaster, it was such a pleasant and harmonious relationship."
When you put it like that, it sounds a lot like a life in beer.
Dawn Patrol is here for a good time, not a long time. See below for you local stockist, in store and on tap.
WA – PACK
AL'S LIQUOR STORE
ASHBY BAR & BISTRO
AUBIN GROVE LIQUOR
AUSSIE LIQUOR ATWELL
AUSSIE LIQUOR BERTRAM
AUSSIE LIQUOR COCKBURN
BESK
BOTTLEMART NOLLAMARA
BOTTLEMART STIRLING
BOTTLEMART WATERFORD
BOTTLEMART WINTHROP
BOTTLEO KIARA
BOTTLEO MAIN STREET CELLARS
BOTTLEO MANDURAH
BOTTLEO SEXTON CELLARS
BOTTLE-O YANCHEP
CAMEL LANE TAVERN
CANDLEWOOD LIQUOR
CAPE CELLARS
CASTLETOWN LIQUOR
CAVES HOUSE
CELLARBRATIONS ALKIMOS
CELLARBRATIONS ARDROSS
CELLARBRATIONS ASQUITH CELLARS
CELLARBRATIONS AT SUNSETS
CELLARBRATIONS BALDIVIS
CELLARBRATIONS CARLISLE
CELLARBRATIONS CLARKSON
CELLARBRATIONS COTTESLOE
CELLARBRATIONS DENHAM
CELLARBRATIONS DONNYBROOK
CELLARBRATIONS DUE SOUTH
CELLARBRATIONS FREMANTLE
CELLARBRATIONS GLENDALOUGH
CELLARBRATIONS HELENA VALLEY
CELLARBRATIONS JOHN'S FOOD & LIQUOR
CELLARBRATIONS KINGSLEY
CELLARBRATIONS KINROSS
CELLARBRATIONS LAST LOCAL
CELLARBRATIONS LYNWOOD
CELLARBRATIONS MARKET PLACE
CELLARBRATIONS MEADOW SPRINGS
CELLARBRATIONS MORRIS PLACE
CELLARBRATIONS MULLALOO
CELLARBRATIONS MUNDARING
CELLARBRATIONS QUEENS
CELLARBRATIONS RIVERTON
CELLARBRATIONS RIVERVALE
CELLARBRATIONS SAM'S CELLARS
CELLARBRATIONS SOUTH GUILDFORD
CELLARBRATIONS SUBIACO
CELLARBRATIONS SUPER STORE HAMILTON HILL
CELLARBRATIONS SUPER STORE MANDURAH
CELLARBRATIONS VIC PARK
CELLARBRATIONS WATTLE GROVE
CELLARBRATIONS YOKINE
CHEQUERS – THIRSTY CAMEL
COMO LIQUOR STORE
COPPER & OAK
CUTLER & SMITH
CY O'CONNORS
DARLINGTON LIQUOR & GOURMET
DE VINE CELLARS INGLEWOOD
DE VINE CELLARS NORANDA
DUNSBOROUGH CELLARS
EZRA POUND
FARMER JACKS LIQUOR JOONDALUP
FREO DOCTOR
GANGEMI'S FINE WINES & FOOD
HARRY BROWN'S OSBOURNE PARK
HAYNES BAR & GRILL
HOTEL NORTHBRIDGE
INGLEWOOD HOTEL
KARALEE ON PRESTON
KINGSWAY BAR AND BISTRO
LEEDERVILLE LIQUOR STORE
LEGENDS BAR AND BOTTLESHOP
LIQUOR BARONS BALLAJURA
LIQUOR BARONS BOYANUP
LIQUOR BARONS BRENTWOOD
LIQUOR BARONS BULLCREEK
LIQUOR BARONS CARLISLE
LIQUOR BARONS CONNOLLY
LIQUOR BARONS DUNCRAIG
LIQUOR BARONS EAST FREMANTLE
LIQUOR BARONS ELLENBROOK
LIQUOR BARONS ESPERANCE
LIQUOR BARONS GREENWOOD
LIQUOR BARONS HERDSMAN
LIQUOR BARONS HILLARYS
LIQUOR BARONS JOLIMONT
LIQUOR BARONS KUNUNURRA
LIQUOR BARONS LEEDERVILLE
LIQUOR BARONS LESMURDIE
LIQUOR BARONS MARMION
LIQUOR BARONS MAYLANDS
LIQUOR BARONS MORLEY
LIQUOR BARONS MOSMAN PARK
LIQUOR BARONS MT HAWTHORN
LIQUOR BARONS NEDLANDS
LIQUOR BARONS NEDLANDS
LIQUOR BARONS NORTHAM
LIQUOR BARONS ON ANGELO
LIQUOR BARONS PERTH CITY
LIQUOR BARONS SUBIACO
LIQUOR BARONS SWANBOURNE
LIQUOR BARONS WEMBLEY DOWNS
LIQUOR BARONS WOKALUP
LIQUOR SHED
MAJESTIC WINES
MANE LIQUOR
MARGARET RIVER LIQUOR MERCHANTS
MAYLANDS TAVERN
MOJOS BAR & RESTAURANT
NEON PALMS
OLD BRIDGE CELLARS
PETER'S CELLARS LIQUOR STORE
PORT KENNEDY TAVERN
PORTERS LIQUOR CLAREMONT
PREVELLY LIQUOR STORE
ROSE HOTEL (LIQUOR BARONS BUNBURY)
SCARBOROUGH CELLARS
SPRINGS TAVERN
THE CORNERSTONE ALE HOUSE (JINDALEE)
THE GATE BAR & BISTRO
THE KARDINYA TAVERN
THE KEWDALE TAVERN
THE LANDING (ALKIMOS)
THE QUARIE
THE RIVER
THE ROSEMOUNT HOTEL
THE WEMBLEY HOTEL
THE WHISTLING KITE
THE WINE BOX NEDLANDS
THE WINE BOX SHENTON PARK
THE WINE BOX WEMBLEY
THIRSTY CAMEL BUTLER
THIRSTY CAMEL KWINANA BEACH
THIRSTY CAMEL MADDINGTON
THIRSTY CAMEL NORTH BEACH
TREENDALE FARM
WA CLEANSKIN CELLARS @ DOUBLEVIEW
WANNAROO GOLF CLUB
YOUR SHOUT LIQUOR
WA – ON TAP
21ST AMENDMENT
ASHBY BAR & BISTRO
AZACCA KITCHEN
BARK BAR
BATHERS BEACH HOUSE
BESK
BOTTLE – O YANCHEP
BOULEVARD HOTEL (FLOREAT)
BREWVINO
BRISBANE HOTEL
BROTHER OF MINE
CELLARBRATIONS HAMILTON HILL
CHAPEL FARM
CLANCYS CANNING BRIDGE
CLANCYS DUNSBOROUGH
CLANCYS FREMANTLE
CUTLER & SMITH
DUTCH TRADING CO
HAYNES
HOTEL NORTHBRIDGE
HYDE PARK HOTEL
IRONBARK BREWERY
KARALEE ON PRESTON
MECHANICS INSTITUTE
MINI BAR
MULBERRY ON SWAN
OPTUS STADIUM
OSBORNE PRK HTL BM LMG
PARMELIA HILTON
QUEENS TAVERN
SMALLS BAR
SUBIACO HOTEL
THE BALMORAL
THE BIRD
THE BRIGHTON MANDURAH
THE COLLECTIVE ROCKINGHAM
THE GATE BAR & BISTRO
THE KALAMUNDA HOTEL
THE KEWDALE TAVERN
THE OLD SYNAGOGUE
THE PEN
THE QUARIE BAR & BRASSERIE
THE RIVER
THE VALE BAR & BRASSERIE
TINYS
TREENDALE FARMHOUSE
W CHURCHILL
WEMBLEY HOTEL
VIC – PACK (available w/c 7th June)
NORTH FITZROY ARMS
NARDI CELLARBRATIONS HIGHTON
WARRALILY LIQUOR
PMK OCEAN GROVE
CELLARBRATIONS NAJDA
GROVEDALE HOTEL
MCCOPPINS ABBOTSFORD
BLACKHEARTS & SPARROWS
STRATHMORE CELLARS
MCCOPPINS FITZROY
CLIFTON HILL HOTEL
BRIGHTON BAY CELLARS
SESSIONS SANDRINGHAM
FIZZ & HOP
PORTERS MOONEE PONDS
SESSIONS WEST BRUNSWICK
ALBION BUDGET SUPERMARKET
WATERDALE CELLARS
HOFFMANS CELLARS
ASCOT VALE CELLARS
HOPHEADS ALTONA
HOPHEADS YARRAVILLE
HOPHEADS POINT COOK
CELLARBRATIONS KYNETON
PRAHRAN GROCER
LORNE CELLARBRATIONS
THREE0FOUR
STEVES LIQUOR RICHMOND
THE BURNLEY
MAT'S CELLARBRATIONS WENDOUREE
MAT'S CELLARBRATIONS MT CLEAR
MAT'S CELLARBRATIONS ALFREDTON
HARRY BROWN CRAIGIEBURN
MONTROSE CELLARS
CELLARS BENTLEIGH
CHAT COLE CELLARS (GEELONG)
LORD NELSON HOTEL (GEELONG)
QLD – ON TAP (available w/c 7th June )
THE TAP HOUSE
THE COMMONWEALTH HOTEL
EMBASSY BAR
STREETCORNER JIMMY/ELEMENT BAR
HOUSE OF BREWS
THE LOOSE MOOSE
THE DOCK
THE COURTYARD
QLD – PACK (available w/c 7th June)
HARRY BROWNS BRACKEN RIDGE
BOTTLEMART IBIS
BLACK SHEEP NEWMARKET
DOMAIN CENTRAL – TSV
SOUTH BANK MALT TRADERS
AIRLIE BEACH HOTEL
GREENSLOPE/HAWTHORNE CELLARS 362046
STREETCORNER JIMMY
JAMES STREET CELLARS
MALT TRADERS CBD
BIG FISH TAVERN
BOONDALL BMART
PRINCE CELLARS
KALAMIA HOTEL AYR – STAR LIQUOR
EAST END STAR LIQUOR
FULL MOON HOTEL B/SHOP
OSBOURNE HOTEL
WISES ROAD CELLARBRATIONS
BIRTINYA CELLARBRATIONS
BRENTS BURGERS
NORTH SHORE TAVERN BOTTLESHOP
STAR LIQUOR PACIFIC PARADISE
STAR LIQUOR NORTH SHORE
WOOMBYE HOTEL
PARKLANDS TAVERN BOTTLESHOP
DICEYS GLADSTONE
THE COURTYARD
IMPERIAL HOTEL EUMUNDI
LIQUOR LEGENDS DIAMOND ST
STAR LIQUOR SUN VALLEY
STAR LIQUOR PARK AVENUE
STAR LIQUOR STOCKLANDS
TREETOPS TAVERN SUPER CELLARS
STAR LIQUOR SUNNYBANK HILLS
LIQUOR LEGENDS VIENNA RD
QUENCH LIQUOR WAREHOUSE
NSW – PACK (available w/c 7th June)
PORTERS NORTH NARRABEEN
BOOZEBUD
BEER CARTEL
STANMORE CELLARS
IGA WARRIEWOOD
BEN BUCKLER CELLARS BONDI
BONDI BEACH CELLARS
KEMENYS BONDI
CORKSCREW CELLARS ROSE BAY
ABC CELLARS DARLINGHURST
EAST CORRIMAL CELLARS
BEROWRA LOCAL LIQUOR
KILLARNEY BOTTLE-O
DUDLEY CELLARS
ENTRANCE CELLARBRATIONS
TOUKLEY CELLARBRATIONS
LAMBTON BOTTLE-O
WARNERS AT THE BAY
FARRAH'S LIQUOR COLLECTIVE
PROHIBITION CELLARS
LIQUOR LEGENDS WODEN
CORKS LIQUOR LANYON
NSW – TAP (w/c 7th June)
COLLAROY BEACH CLUB
SA – PACK
ANGAS PARK CELLARS
SWEET AMBER
THE BRIDGEWAY
THE OLD SPOT
BROOKLYN PARK CELLARS
CRITERION
THE BOMBAY BICYCLE CLUB
URBAN CELLARS MT BARKER
ALDGATE PUMP HOTEL
STIRLING HOTEL
NARACOORTE HOTEL
STRATHMORE CELLARS
ST PETERS CELLARS
SA – TAP
The Oxford
The Kentish