We're stoked to introduce you to our newest member of the family, Pipe Dreams Coastal Lager!
It's a beer that keeps it real – clean, crisp and refreshing. Pipe Dreams Coastal Lager is all natural, with no preservatives or additives, brewed with nothing more than water, hops, yeast and malt.
"Pipe Dreams Coastal Lager is inspired by the traditional European style, so it has a nice light colour with traditional noble hop aromas and a light citrus zest over the top," explains Head Brewer Ross Brown.
"It's quite a delicate beer, but complex at the same time. There's a little bit of malt sweetness to balance it out with a crisp, refreshing bitterness which is key to this beer style."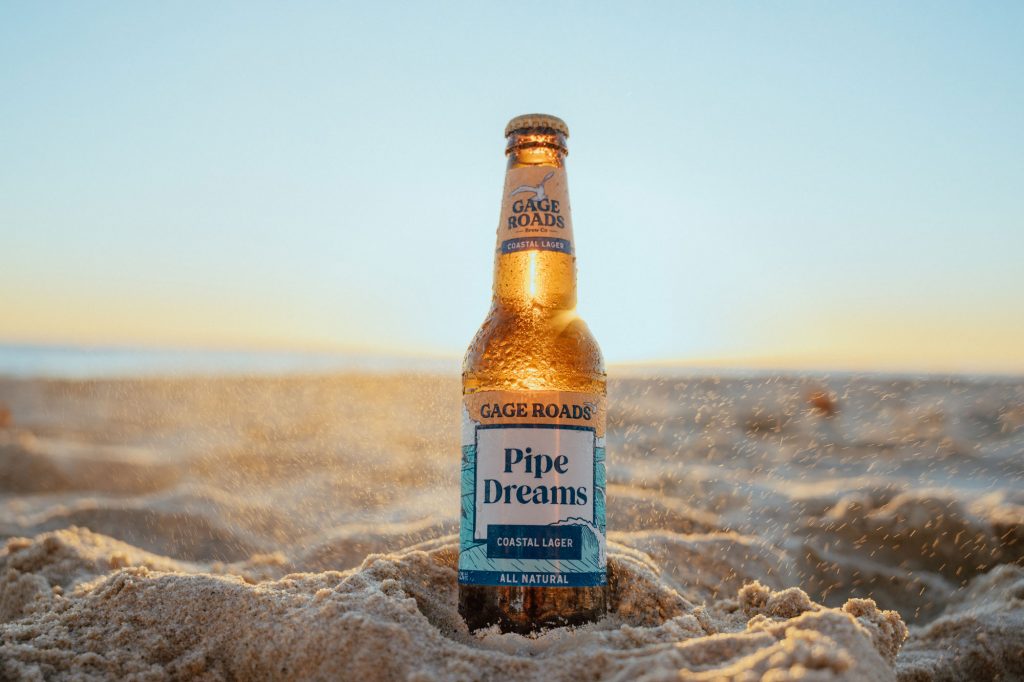 Brewing lagers can be an exciting challenge for brewers. Ross says Pipe Dreams was great fun to brew.
"I really enjoy the challenge of brewing a lager. Your processes have to be on the money and there's some restraint which creates a better and more drinkable beer.
"We've spent a lot of time with our lager fermentation achieving this really clean profile, with a nice light and fruity ester. It's a clean, fresh beer and I just love how that has come through."
Pipe Dreams Coastal Lager is inspired by the ocean. Gage Roads has bottled the feeling of that first ocean swim – a moment of pure refreshment.
"It's a beer that people will love. It's super refreshing but still has plenty going on. People that enjoy premium style European lagers will really appreciate the flavours. However, this is a beer you're getting fresh and local. It's not sitting on a boat, spending months getting here. Being able to appreciate a fresh lager is something great.
"Craft beer aficionados are also becoming more aware of brewing technique and appreciating these lagers which showcase good brewing. Ultimately, it's a super refreshing beer – you'll love it at the beach, watching the footy or down at the pub."
Pipe Dreams Coastal Lager is available nationally. See stockists below
ABV – 4.2% | EBC – 6 | IBU – 20 | Available in 4 x 6 330ml bottles and on tap
STOCKISTS
WA – ON TAP
FOUR POINTS BY SHERATON PERTH; GAMI CHICKEN (CBD, WHITFORDS, SHAFTO LANE); GRILL'D SCARBOROUGH; GRILL'D VICTORIA PARK; IL LIDO ITALIAN CANTEEN; MARGARET RIVER RESORT; MULBERRY ON SWAN; SOUTH BEACH HOTEL
WA – PACKAGE
AVAILABLE IN ALL LIQUOR BARONS AND THIRSTY CAMEL STORES; DAN MURPHY'S (COMING IN AUGUST); FIRST CHOICE (COMING IN SEPTEMBER), VINTAGE CELLARS (COMING IN SEPTEMBER); BESK, MANE, KWINANA BEACH LIQUOR; CELLARBRATIONS MALIBU; KARDINYA TAVERN; BEACONSFIELD HOTEL; LIQUOR BARONS ARMADALE; LIQUOR BARONS APPLECROSS; CELLARBRATIONS FREMANTLE; CELLARBRATIONS MYAREE; C Y OCONNOR PUB; DIVERS TAVERN; BALDIVIS LIQUOR STORE; CELLARBRATIONS HAMILTON HILL; AUBIN GROVE LIQUOR; ARMADALE TAVERN; CHALLIS LIQUOR STORE; ROEBUCK BAY HOTEL; LIQUOR BARONS FORRESTDALE; CELLARBRATIONS BALDIVIS; GOLDEN BAY LIQUOR; CELLARBRATIONS MEADOW SPRINGS; LIQUOR BARONS HAMILTON HILL TAVERN; GREENFIELDS LIQUOR; CELLARBRAIONS MANDURAH CELLARS; ALKIMOS LIQUOR STORE; ASQUITH CELLARBRATIONS; AUSSIE LIQUOR ATWELL; AUSSIE LIQUOR COCKBURN; AUSSIE LIQUOR BERTRAM; AUSSIE LIQUOR BYFORD
NSW – ON TAP
TIME & TIDE HOTEL BOTTLE SHOP; 350 ON MAIN BAR (TOUKLEY)
NSW – PACKAGE
H20 CAFÉ NARRABEEN; STONED CROW (CROWS NEST); THE BEACH CLUB COLLAROY, ROMA VINO (NORTH EPPING)
VIC – PACKAGE
MURRUMBEENA WINE BAR; CELLARBRATIONS @ NAJDA; GROVEDALE HOTEL ; TORQUAY HOTEL ; BARWON HEADS HOTEL; LIQUID HQ; ALBION BUDGET SUPERMARKET; WATERDALE CELLARS; THE BURNLEY; HEIDELBERG CELLARS; BRUNSWICK CELLARS; RICHMOND HILL CELLARS; TC CAMDEN HOTEL; WARRALILLY LIQUOR; PMK OCEAN GROVE; YARDZ HOTEL ; THE LOCAL AKA GOONAWARRA LIQUOR; ALKIRA BOTTLESHOP; KEILOR HOTEL; VALLIS IGA HIGHTON; CELLARBRATIONS KANGAROO FLAT; MACLEOD CELLARS
QLD – ON TAP
CLUB BURLEIGH; WILDERNIS; BINE; THE YOT CLUB; BRADMAN RIVERHOUSE; GARAGE BAR & GRILL; ROSELLA'S BAR
QLD – PACKAGE
CELLARBRATIONS REDLYNCH; CELLARBRATIONS YORKEYS KNOB; GREAT NORTHERN BOTTLESHOP GORDONVALE; RIVERSTONE ROAD BOTTLEMART; GRACE STREET WAREHOUSE; RED BERET HOTEL BOTTLESHOP; THALA LODGE; DICEYS GLADSTONE; ORION HOTEL SPRINGFIELD