Say hello to a new mate we reckon you're gonna love.
Inspired by our 2020 limited release, Loop the Lupe, Rock Dance IPA is a clear sky in a sea of haze. Our new West Coast IPA packs amped-up bursts of tangerine, stone fruit and resin from a hop trifecta of Idaho 7, Citra and Azacca. It's anchored with rounded malt and firm bitterness, coming in at 6.5% ABV.
"It's bold. It's balanced. And with a hefty dose of Idaho 7, Citra and Azacca really working their magic, it's jam packed with aromas of ripe tangerine, tropical fruit and layers of pine," says head brewer Ross Brown.
"West Coast IPAs are the ultimate celebration of hops! Intense aromas, big bitterness and juicy resin. It's a style that got a lot of people interested and excited about craft beer. While East Coast IPAs have stolen the limelight in recent years, it's great to be able to return to such a big, bold and complex style, which is ones of my faves.
"Rock Dance is all about the lupulin. I was excited by Idaho 7 at a pre covid trip to the US hop harvest and put it straight into a limited release – Loop the Lupe Cryo IPA. Rock Dance shares some of the same DNA."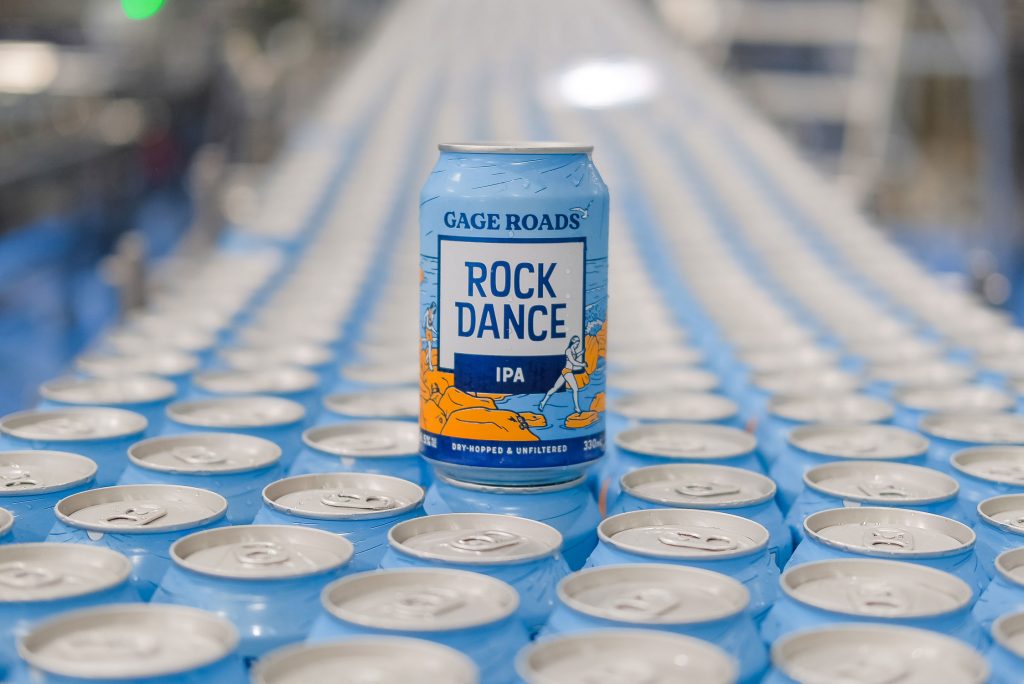 In 330ml cans and on tap, Rock Dance IPA is available nationally – all-year round in WA and as a limited release across the east coast.
Check the list below for your local stockist!
WA – ON TAP
Ashby Bar Bistro; The Brighton; The Wembley; Henry Summer; The Windsor; The Collective; Emily Taylor; Clancy's Dunsborough; Pica Bar; W Churchill
WA – PACKAGE
Ashby Bar Bistro;The Wembley; LB Connolly; LB Hillary's; Devine Cellars Inglewood; Devine Cellars Noranda; Liquor Barons Bull Creek; Kewdale Tavern; Hamilton Hill Cellars; Kwinana Beach; Dunsborough Cellars; Treendale IBA; The Gate Bar Bistro; Scarborough Cellars; LB Leederville; Old Bridge Cellars; Copper & Oak; Mane Liquor
QLD – PACKAGE
TBS Wine & Beer Teneriffe; Club Hotel Roma; Brent's Burges; Charlies Hotel Gympie; Dicey's Hotel Gladstone; Star Liquor Yeppoon
NSW – ON TAP
350 on Main; Warners at the Bay; Beach Club Collaroy
NSW – PACKAGE
Killarney Vale Bottle-O; Dudley's Liquor; Warners at the Bay; Toukley Cellarbrations; East Corrimal Cellars; Coledale Fine Wines; Lake Munmorah Liquor; Lambton Bottle-O; The Entrance Cellarbrations; Adamstown Cellarbrations; Summerland Point Liquor; Pauls Corner Liquor; Porters North Narrabeen; Camperdown Neutral Bay; Beer Cartel; Bayfields Dee Why; Park House; Sketch Bar Manly; Farrahs Liquor; Urban Cellars Curtin; Winona Manly; Berowra Local Liquor; Belmont Hotel Bottleshop; Hazelbrook Cellars; Warriewood IGA; Stanmore Cellars; Aurora Hotel; The Spot Cellars; Bondi Beach Cellars; ABC Cellars; The Australian Heritage Hotel
VIC – ON TAP
The Great Northern; Kelly's Bar & Kitchen; The Carringbush; The Hop Inn Mt Duneed; Hardimans; Barking Dog Geelong West; Centra Geelong; Marquis of Lorne
VIC – PACKAGE
Lord Nelson Hotel; Albion Budget; Hoffmans Cellars; Waterdale Cellars; Brunswick Supa IGA; Werribee Supa IGA; Grovedale Hotel; McCoppins Abbotsford; Cellarbrations Yarraville; Cellarbrations Nardi – Highton; Warralilly Liquor; PMK Ocean Grove; Vernon St Bottle-O; Fitzroy IGA; TC Grosvenor; Goonawarra Liquor Sunbury; Fyansford Hotel; Foodworks Bacchus Marsh; McCoppins Fitzroy; Strathmore Cellars; Fizz & Hop; Ocean Grove Cellars; Cellarbrations Najda; Harry Brown Craigieburn; 304 Bottle Shop; Village Vineyard; Rascal; Liquid HQ; Cellars Bentleigh