It may not be official, but summer has arrived. Grab your mates and jump on board with Party Wave Stone Fruit Sour!
Our latest limited release combines upfront stone fruit aromas with a hint of funk. Take a sip for waves of peach and apricot. There's subtle bubble on the tongue, with a tart and refreshing finish.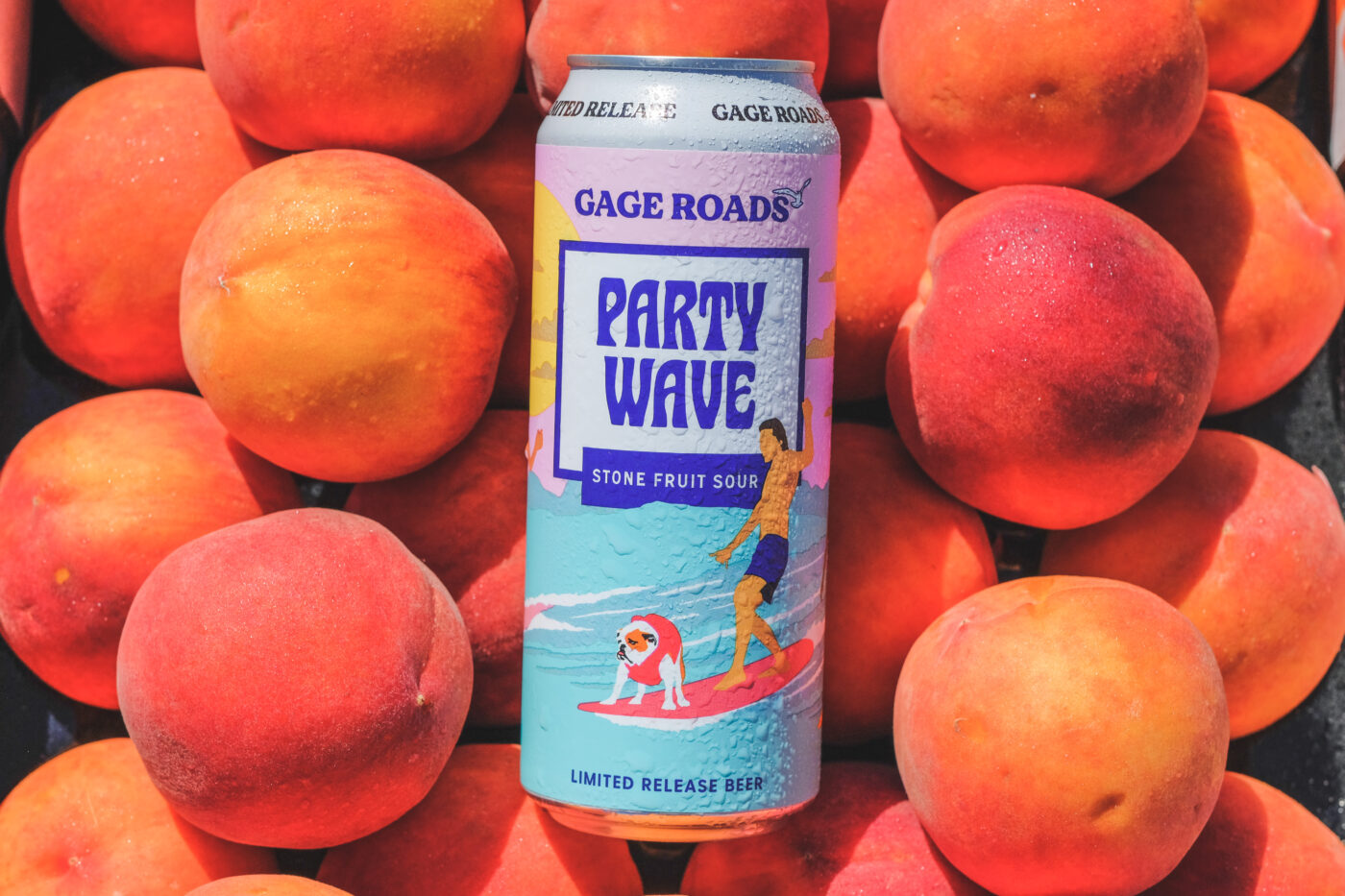 Head brewer Ross Brown says Party Wave strikes a great balance, and will be a favourite this summer.
"Party Wave is the perfect match for an Aussie summer filled with all the good stuff. On the nose there's rich ripe fruit with moreish apricot and peach aromas, and some really nice tartness on the finish.
"It's not a sour that will invert your face, but it brings the sour funk you'd expect. I can definitely see myself getting into a few cans out in the sun over summer," says Ross.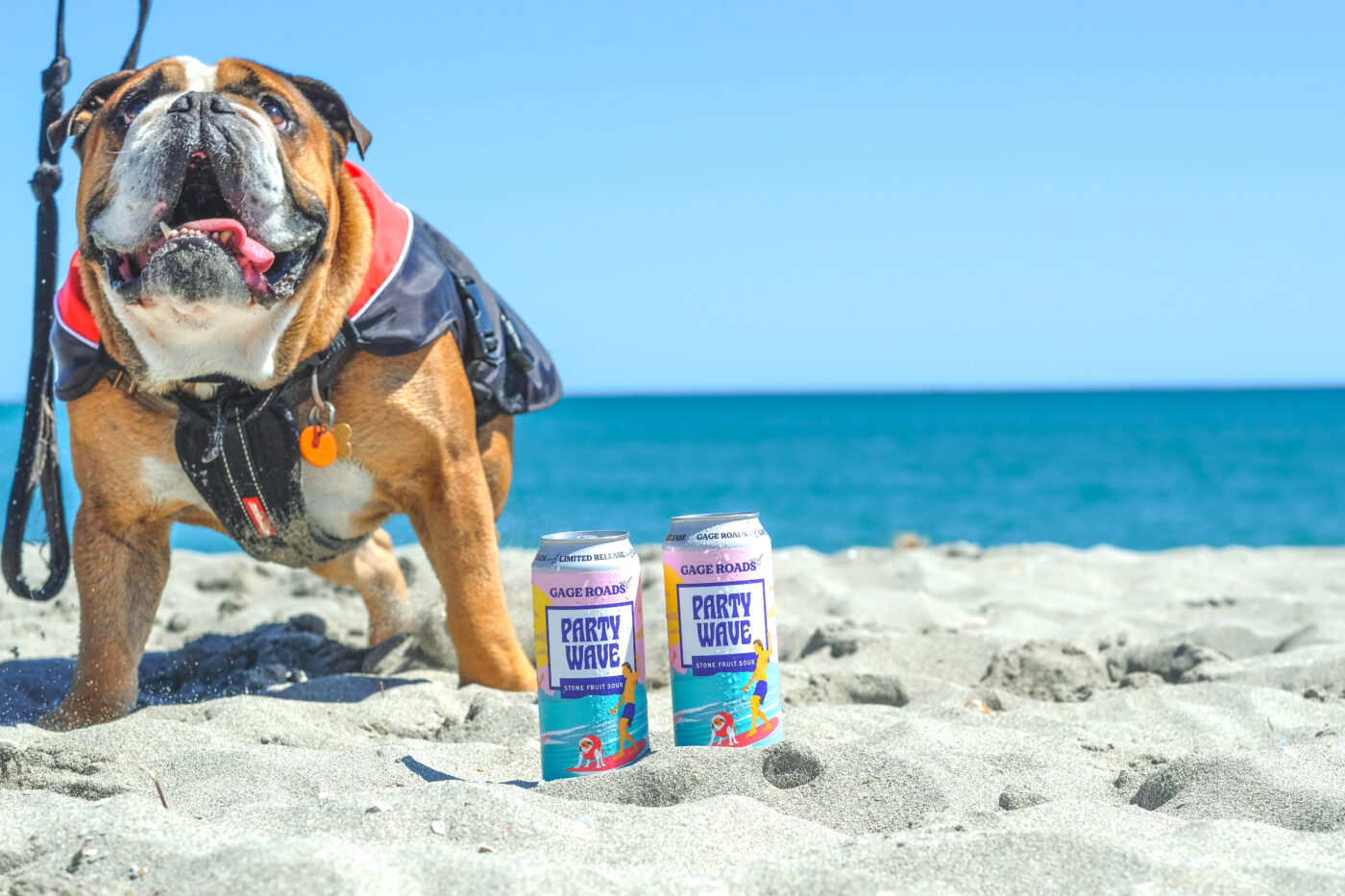 Party Wave is brewed with real Aussie peach and apricot, which is as clear on the nose as it is the palate.
"I love the freshness and amazing fruit character we've been able to get into Party Wave. Sour beers are great in summer, they're super refreshing and a great palate cleanser as well. There's great balance and approachability here and I think that will be really enjoyed by beer drinkers, sour fans and anyone that loves a refreshing drink in the sun."
This limited release was inspired by good times with mates. Party waves are all about that life – sharing the surf with your crew.
Party Wave comes in at 4.2% ABV. It's available in 4 x 500ml cans and on tap. See below for the full list of stockists. Party on!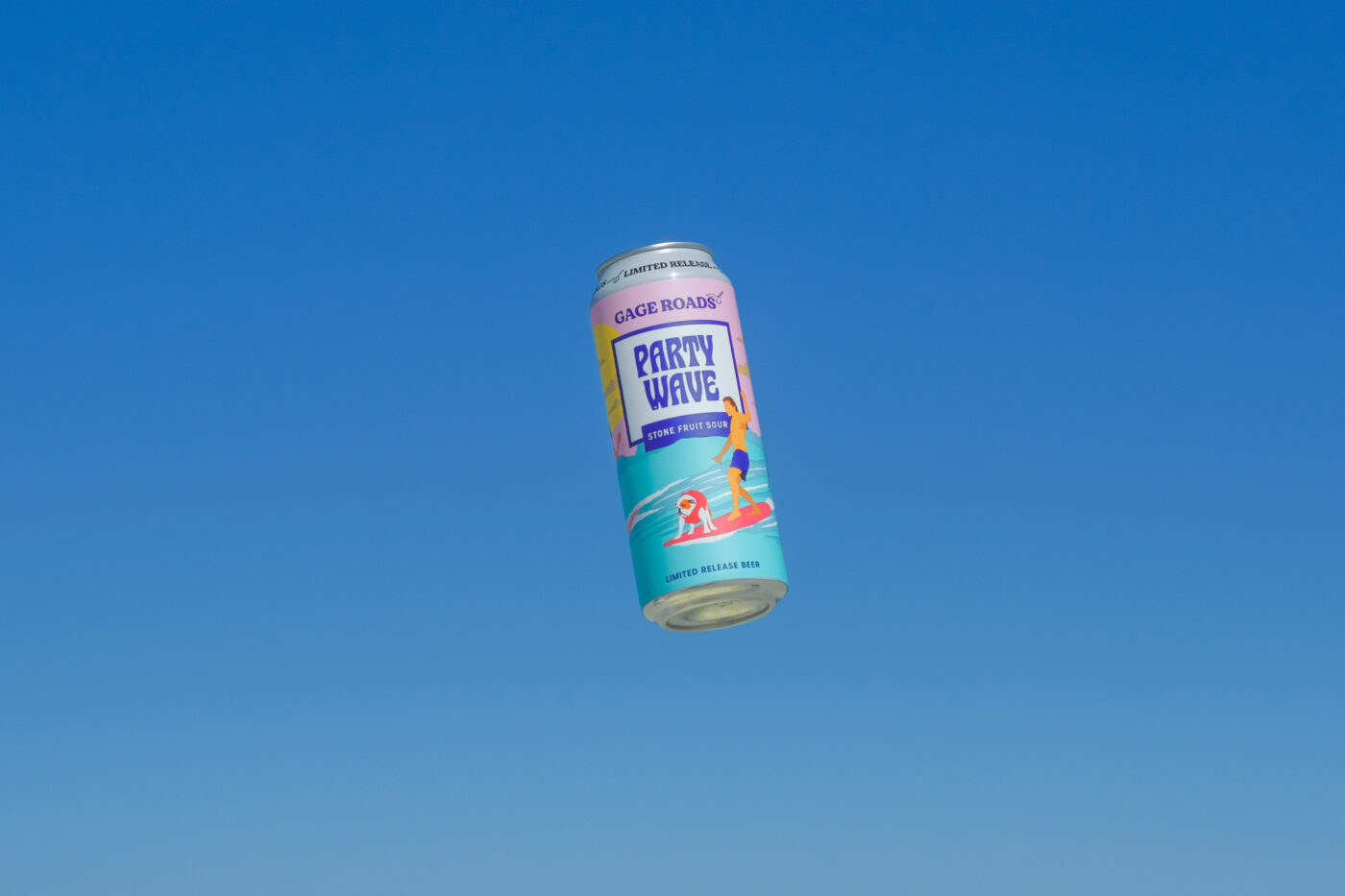 WA – PACK
WA CELLAR DOOR DOUBLEVIEW; CONDELLOS BUNBURY; MOJOS BAR & RESTAURANT; CASTLETOWN LIQUOR; PEMBERTON HOTEL; THE RIVER; CARBUNUP STORE; CAVES HOUSE; DUE SOUTH; TREENDALE FARM; LIQUOR BARONS BOYANUP; ROSE HOTEL (LIQUOR BARONS BUNBURY); LIQUOR BARONS COWARAMUP; LIQUOR BARONS EATON; LIQUOR BARONS NARROGIN; LIQUOR BARONS PEMBERTON; MARGARET RIVER LIQUOR MERCHANTS; DUNSBOROUGH CELLARS; CAPE CELLARS; PALACE HOTEL WAGIN; PARKS TAVERN; AUGUSTA COASTAL CELLARS; CLOVERS STORE; SMALLS BAR; PREVELLY LIQUOR STORE; LIQUOR BARONS EAST FREMANTLE; LIQUOR BARONS APPLECROSS; LIQUOR BARONS BEACONSFIELD; LIQUOR BARONS BRENTWOOD; LIQUOR BARONS MELVILLE; CELLARBRATIONS FREMANTLE; CELLARBRATIONS ARDROSS; KARDY TAVERN; BRENTWOOD CELLARS; CELLARBRATIONS BICTON; BOTTLEMART WINTHROP; FREO DOCTOR; LEGENDS; LIQUOR BARONS ON ANGELO; KARALEE ON PRESTON; LIQUOR BARONS NORTHAM; LIQUOR BARONS BULLCREEK; LIQUOR BARONS CARLISLE; LIQUOR BARONS WILLETTON; LIQUOR BARONS WINDSOR CELLARS; BELVEDERE'S BAR & BISTRO; BURRENDAH TAVERN; BOTTLEMART WATERFORD; CELLARBRATIONS CARLISLE; CELLARBRATIONS VICTORIA HOTEL TOODYAY; CELLARBRATIONS HELENA VALLEY; CELLARBRATIONS HUNTINGDALE; CELLARBRATIONS LYNWOOD; BOTTLEO FORRESTFIELD; BOTTLEO ROSSMOYNE; BOTTLEO LUCKIES LIQUOR; CELLARBRATIONS MUNDARING; PURPLE OWL RESTAURANT; CELLARBRATIONS RIVERVALE; CELLARBRATIONS CHATEAU GUILDFORD; CELLARBRATIONS SOUTH GUILDFORD; CELLARBRATIONS VIC PARK; CELLARBRATIONS WATTLE GROVE; COMO LIQUOR STORE; STONEVILLE LIQUOR; DARLINGTON LIQUOR & GOURMET; KEWDALE TAVERN; WOODBRIDGE HOTEL; THIRSTY CAMEL MADDINGTON; BOTTLEMART WILLETTON; CELLARBRATIONS BELMONT; OLD BRIDGE CELLARS COMO; AUBIN GROVE LIQUOR ; BYFORD TAVERN; ROEBUCK BAY HOTEL; CONTINENTAL HOTEL BROOME; THE GATE BAR & BISTRO; THE QUARIE; THE VALE; THE BOTTLE-O MANDURAH; THE BOTTLE-O GLADES; CELLARBRATIONS BALDIVIS; CELLARBRATIONS SUPER STORE HAMILTON HILL; CHALLIS LIQUOR; CELLARBRATIONS MEADOW SPRINGS; LIQUOR SHED; CELLARBRATIONS SUPER STORE MANDURAH; AUSSIE LIQUOR ATWELL; AUSSIE LIQUOR BERTRAM; AUSSIE LIQUOR COCKBURN; KWINANA BEACH ; WHISTLING KITE; LIQUOR BARONS BROOME; LIQUOR BARONS PIARA WATERS; LIQUOR BARONS NAVAL BASE; LIQUOR BARONS PORT KENNEDY; LIQUOR BARONS SEASCAPES; LIQUOR BARONS WOKALUP; CELLARBRATIONS PORT MANDURAH; CELLARBRATIONS LEEMING; BOTTLO ROCKINGHAM; CELLARBRATIONS MUNDIJONG; GOLDEN BAY LIQUOR; MARINA CELLARS; CELLARBRATIONS BEELIAR; RAVENSWOOD HOTEL; HAYNES BAR & GRILL; SOUTH STREET ALE; CELLARBRATIONS SAFETY BAY; CELLARBRATIONS MARKET PLACE; CELLARBRATIONS KINGSLEY; DEVINE CELLARS INGLEWOOD; BOTTLEMART NOLLAMARA; DEVINE CELLARS NORANDA; SEXTON CELLARS; KINGSWAY BAR AND BISTRO; LIQUOR BARONS KARRATHA; LIQUOR BARONS ELLENBROOK; LIQUOR BARONS MAYLANDS; LIQUOR BARONS MORLEY; LIQUOR BARONS MT HAWTHORN; LIQUOR BARONS PORT HEDLAND; CHEQUERS – THIRSTY CAMEL; BOTTLE – O KIARA; SPRINGS TAVERN; MAYLANDS TAVERN; LA VIGNA; CELLARBRATIONS NEWMAN; MULBERRY ON SWAN; BOTTLE – O BEECHBORO; LIQUOR BARONS CONNOLLY; LIQUOR BARONS DUNCRAIG; LIQUOR BARONS GREENWOOD ; LIQUOR BARONS HILLARYS; FARMER JACKS LIQUOR JOONDALUP; LIQUOR BARONS MARMION; LIQUOR BARONS SUNSETS; CELLARBRATIONS KINROSS; CANDLEWOOD LIQUOR; ASHBY BAR & BISTRO; CELLARBRATIONS CLARKSON; THE GERALD APARTMENT HOTEL; THIRSTY CAMEL NORTH BEACH; WHALE N ALE; BOTTLE-O YANCHEP; CUTLER & SMITH (CB CENTRAL); CELLARBRATIONS QUEENS; ALKIMOS LIQUOR; GERALDTON MOTOR HOTEL; MAIN STREET CELLARS; CON'S LIQUOR GERALDTON; CERVANTIES LIQUOR; NORTHSHORE TAVERN; BUTLER SPECIALTY CELLARS; THIRSTY CAMEL BELDON; THIRSTY CAMEL ALKIMOS – THE LANDING; THIRSTY CAMEL JINDALEE; CELLARBRATIONS MULLALOO; CELLARBRATIONS BUTLER; BM STIRLING; AL'S LIQUOR STORE; ASQUITH CELLARS; CAMEL LANE TAVERN; CELLARBRATIONS @ COTTESLOE; CELLARBRATIONS @ SAM'S; CELLARBRATIONS DENHAM; GANGEMI'S FINE WINE & FOOD; GLENDALOUGH STORE; INNALOO SPECIALTY LIQUOR; JOHNS FOOD & LIQUOR; LEEDERVILLE LIQUOR STORE; MAJESTIC WINES / LIBERTY LIQUOR; OLD BRIDGE CELLARS; OSBORNE PARK HOTEL; PETERS CELLARS LIQUOR STORE; PORTERS LIQUOR; SCARBOROUGH CELLARS; WA CLEANSKIN CELLARS @ DOUBLEVIEW; WEMBLEY BOUTIQUE LIQUOR (LQB); WEMBLEY HOTEL; WINEBOX NEDLANDS; WINEBOX SHENTON PARK; LIQUOR BARONS HERDSMAN; LIQUOR BARONS LEEDERVILLE; LIQUOR BARONS MOSMAN PARK; LIQUOR BARONS PERTH CITY; LIQUOR BARONS SWANBOURNE; LIQUOR BARONS WEMBLEY DOWNS; LIQUOR BARONS NEDLANDS; LIQUOR BARONS CLAREMONT; LIQUOR BARONS SUBIACO; WHITESANDS TAVERN; CLAREMONT CELLARS; MANE LIQUOR; BESK BOTTLESHOP; CON'S CITY BEACH
WA – ON TAP
CLANCY'S CITY BEACH; BATHERS BEACH HOUSE; CLANCY'S CANNING BRIDGE; KARDINYA TAVERN; TRADEWINDS; CLANCY'S FREMANTLE; DUTCH TRADING CO; SOUTH BEACH HOTEL; THE BALMORAL; THE FEDERAL HOTEL; 8 KNOTS; THE OLD SYNAGOGUE; THE LOCAL HOTEL; THE RIVERTON BAR & GRILL; KEWDALE TAVERN; CHAPEL FARM; KALAMUNDA HOTEL; AZACCA KITCHEN; THE BRIGHTON MANDURAH; THE GATE BAR & BISTRO; THE CHASE BAR; THE QUARIE BAR & BRASSERIE; THE VALE BAR & BRASSERIE; THE BROOK BAR AND BISTRO; GRAND CENTRAL; ASHBY BAR & BISTRO; THE BEACH HOUSE – EDEN BEACH; WEMBLEY HOTEL; HOTEL ROTTNEST; SANDBAR SCARBOROUGH BEACH; OCEANS; ST BRIGID; CLANCY'S FISH PUB; 21ST AMENDMENT; BESK; HOTEL NORTHBRIDGE; HYDE PARK HOTEL; LUCKY SHAG; MECHANICS INSTITUTE; NEON PALMS; PICA BAR; THE BIRD; TINY'S; VILLAGE BAR; W CHURCHILL; COLLAB BAR & CAFÉ; WHITFORDS BREWING CO.; CLANCY'S DUNSBOROUGH; THE RIVER; ROSE HOTEL; TREENDALE FARMHOUSE; SMALLS BAR; DUNSBOROUGH TAVERN; MATSO'S BROOME BREWERY; MANGROVE HOTEL BROOME; CUTLER & SMITH
QLD – PACK
BRT HARRY BROWNS; SOUTH BANK MALT TRADERS; NEWMARKET BLACKSHEEP; GREENSLOPES CELLARBRATIONS; FLASK CELLARS; BOTTLEMART IBIS CENTRAL; BOTTLEMART BOONDALL; BOTTLEMART FULL MOON DRIVE
QLD – ON TAP
EMBASSY BAR, BRISBANE CITY; COMMONWEALTH HOTEL; TAP HOUSE; MISS DEMEANOUR; MRS BROWNS; TRANS HOTEL; TINGALPA CELLARBRATIONS; ARUNDEL TAVERN; TUGUN BEACH CELLARS; LAST NIGHT ON EARTH
NSW – PACK
EAST CORRIMAL CELLARS, EAST CORRIMAL; BEROWRA VILLAGE CELLARS, BEROWRA HEIGHTS; TACKING POINT TAVERN, PORT MACQUARIE; PORT MACQUARIE HOTEL, PORT MACQUARIE; KILLARNEY VALE BOTTLE-O, KILLARNEY VALE; DUDLEYS LIQUOR, KILLARNEY VALE; THE ENTRANCE CELLARBRATIONS, THE ENTRANCE; TOUKLEY CELLARBRATIONS, TOUKLEY; WARNERS AT THE BAY, WARNERS BAY; BEN BUCKLER CELLARS; BONDI BEACH CELLARS; BEACH ROAD HOTEL; LIQUOR EMPORIUM; KEMENYS; THE SPOT CELLARS
NSW – ON TAP
BEACH ROAD HOTEL; CHUCK TRAILERS; NEIGHBOURHOOD
VIC – PACK
LIQUID HQ; PIEDIMONTE IGA; THE BURNLEY BY THE LIQUOR MASTERS; IGA GREEN SQUARE; STRATHMORE CELLARS; ALBION BUDGET SUPERMARKET; WATERDALE CELLARS; HOFFMANS CELLARS ; ASCOT VALE CELLARS; HARRY BROWNS CRAIGIEBURN; BOTTLEMART ALTONA; CELLARBRATIONS AT FOXXYS WALLAN; CELLARBRATIONS AT FOXXYS KILMORE; THE LOCAL GOONAWARRA; MATTHEWS LIQUOR; UK HOTEL BENDIGO; LYGON ST CELLARS; BOTTLEMART OLYMPIC HOTEL; BOTTLEMART BRAYBROOK HOTEL; THIRSTY CAMEL LOMOND HOTEL; CELLAR 1839; BOTTLEMART HEIDELBERG CELLARS; BOTTLEMART IVANHOE; NILUMBIK CELLARS; COLONIAL CELLARS; BARRIQUE WINE STORE; THIRSTY CAMEL RESERVOIR; PSARAKOS SUPERMARKET; BRUNSWICK SUPA IGA; EDINBOROUGH CASTLE; BOTTLEMART LOWER PLENTY; BOTTLEMART MACLEOD CELLARS; EAST IVANHOE FOODWORKS; BURNLEY LIQUORMASTERS; PRAHRAN GROCER; NO.THREEOFOUR; IGA MONTROSE CELLARS; WERRIBEE SUPA IGA ; CELLARBRATIONS NAJDA – NORTH GEELONG; FOODWORKS BACCHUS MARSH; CHAS COLE CELLARS ; VICTORIA ST CELLARS; BLACKHEARTS & SPARROWS; BRIGHTON BAY CELLARS; CELLARBRATIONS LORNE; GRAPE & GRAIN; RENAISSANCE IGA HAWTHORN; RENAISSANCE IGA GLENFERRIE RD; MCCOPPINS ABBOTSFORD; MCCOPPINS FITZROY; GROSVENOR HOTEL; RITCHIES YARRA GLEN; MAYERLING CELLARS; NEPEAN HIGHWAY CELLARS; SESSIONS SANDRINGHAM; RITCHIES MT ELIZA; RITCHIES TOWER HILL; RITCHIES CARRUM DOWNS; THE BOTTLE-O LORD NELSON HOTEL; LEO'S KEW; MELBOURNE WINE STORE; NARDI'S CELLARBRATIONS HIGHTIN; HAIRYDOG – ONLINE; PAUL'S IGA EAST RINGWOOD; RITCHIES ROWVILLE; SORRENTO CELLARS; BLAIRGOWRIE IGA; RITCHIES DROMANA; WATERFALL GULLY CELLARS; IGA COWES; ST KILDA WINE AND SPIRIT
VIC – ON TAP
UNION ELECTRIC BAR & ROOFTOP; MANHATTAN BAR GEELONG; HOP INN MT DUNEED
SA – ON TAP
WEST THEBBY; THE PA GAWLER; THE PENINSULA; THE COLONIST; MONTES LOUNGE
SA – PACK
CRITERION; BOMBAY B CLUB; OXFORD; GAPVIEW ; AUSSIE INN; HIGHWAY; OG HOTEL; URBAN MT BARKER; CB MT BARKER; LINCOLN CELLARS; CELLO MOANA; MAID OF AUCKLAND; ALDINGA BOTTLE; STIRLING HOTEL; EYRE CELLARBRATIONS; PA GAWLER; BRIDGEWAY; OLD SPOT; SUNSET GLENELG; MAWSON LAKES; WARRADALE; CELLARBRATIONS WALLAROO; ANGAS PARK CELLARS; LITTLE PUB
NT – ON TAP
THE PRECINCT
NT – PACK
CAS CLUB; HOWARD SPRINGS SUPERMARKET; HIBISCUS TAVERN