It's been in the works for years, but this summer it's finally happening. You could say, it's the 'Day For It.' Gage Roads and Oli Clothing have come together for a collab that's all about embracing our much loved Aussie summer. The Gage crew took a trip out to Oli's warehouse to see where the magic happens, first hand.
Handmade and local.
While that's been a vibe embraced in 2020, for Oliver McDonald it's something he's valued since day one. Founding Oli Clothing from his bedroom more than eight years ago, the brand has grown to a team of nine, with an online store and a bricks and mortar shop front on William Street in Northbridge. But early on, that wasn't really the idea.
"When it started, there wasn't a long-term plan. I was just giving it a shot for a year and see what happens. From an early age, I would hand draw tees at home for myself and my mates. It was more of a hobby, that later in high school turned into something that I wanted to pursue after school. It was laughed off a bit as a career, so I ended up going to Curtin Uni to study art for a year. But a year into studying art I realised I wanted to give the brand a crack. I was only 18, so I wanted to give that a proper shot. I thought I'd see how it went for a year, and now here we are, eight years on," explains Oliver.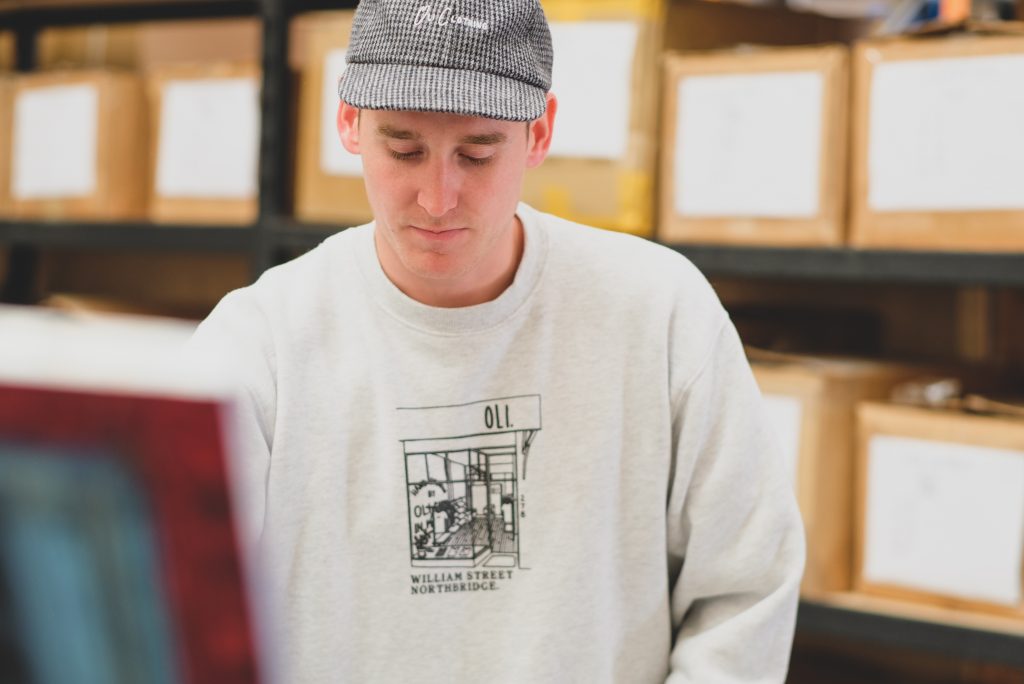 Today we're hanging out at Oli's warehouse. It feels like the brand's engine room, and this close to Christmas it's humming along. There's a couple of hand operated screen-printers on the go. Four long arms extend from the base, holding what looks like picture frames covered with mesh. That's where the clothes are hand pressed with the designs that Oliver draws. It's clear pretty fast that screen printing tees isn't a job for the impatient. It's a precise, yet repetitive gig that's easy to get wrong. Press the screen down in slightly the wrong position and the tee is ruined. Overthink it, and you'll be there forever. There's something special about its handmade nature.
Across from that, a tunnel drier is doing its thing on recently printed tees. It sets and cures the ink, so the design holds and the shirt is ready to go. Bordering the room are stacks of shelves filled with stock, that's constantly turning over. Around the side there's another room, where Oli designs and other members of the team are set-up working on orders and other parts of the business. While we're there, a postie turns up and fills a massive Santa sized sack with online orders. More than a few will end up under trees around the country. With 2020 coming to an end, it's easy for Oliver to reflect on what's been the most unique year he's had.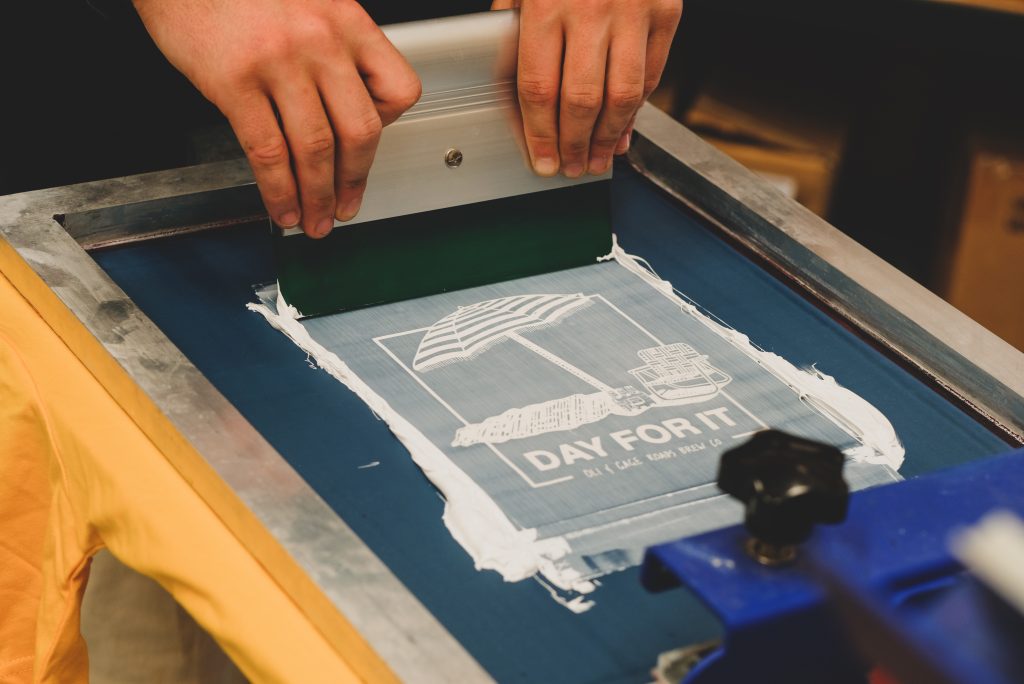 "It's been a weird year. We opened our new store in Northbridge in February. It was open for three weeks and then we had to close. At that stage, we were like anyone and concerned about what was going to happen.
"But I quickly turned my mindset into embracing what it was. There were four of us working at the time and we moved from monthly collections to weekly releases. It's really turned into a good model and we're releasing one or two things a week and focussing on making them really good. They're all limited runs and it's something we've embraced, as the customers have. It's gotten busier and busier and we're going to continue to keep the structure," says Oliver.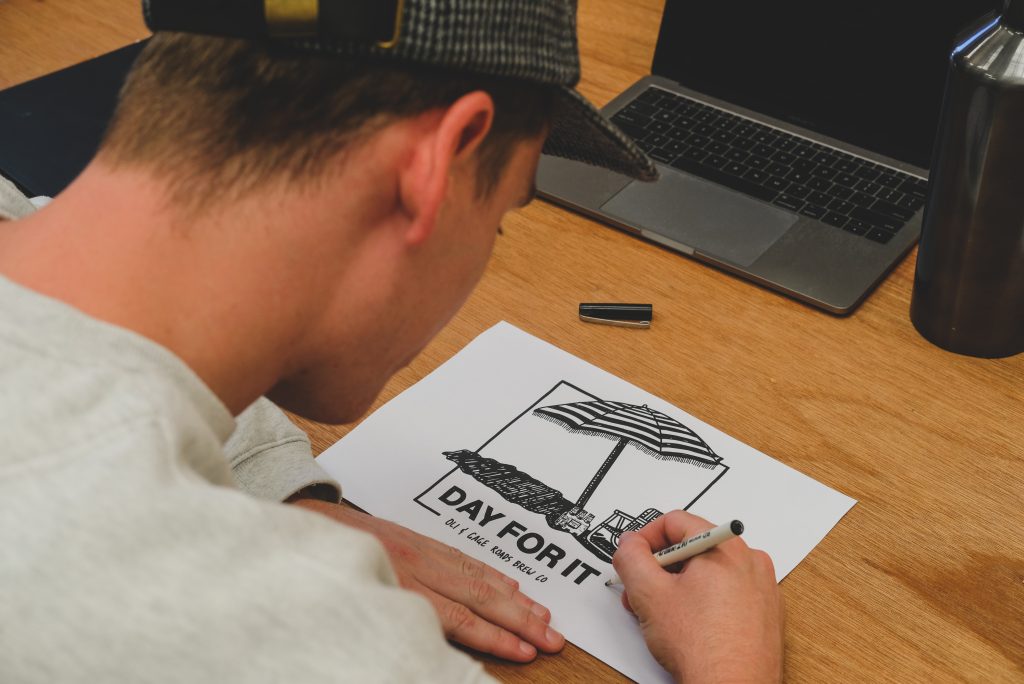 Embracing it has been something Oli has had at its core since day one, not only with the business but with design. Rather than jumping on a trend or trying to anticipate a market, the team has kept it simple with one golden rule – make stuff you want to wear.
"It's a tricky one. I guess we're not a skate brand, we're not a surf brand and we're not high end. I like to call it daily wears – a lot of the stuff is simple but we hope they're things you can wear for a long time and not look back on in a few years and say 'what was I thinking.' We try not to follow any trends and stuff like that because they're often the things you look back and find shocking. If I look back on it now, the designs, cuts and everything is the same as what it was four years ago, or even eight years ago. We're pretty much trying to create things that we, as a team, want to wear. It always comes back to the simplest, but most well executed products. I think what makes us different from other brands is we do all the screen printing ourselves."
The latest tees and socks coming from Oli are a collab with Gage Roads. It's something that's been talked about for years, but for whatever reason didn't happen. Some would say, right now is the day for it.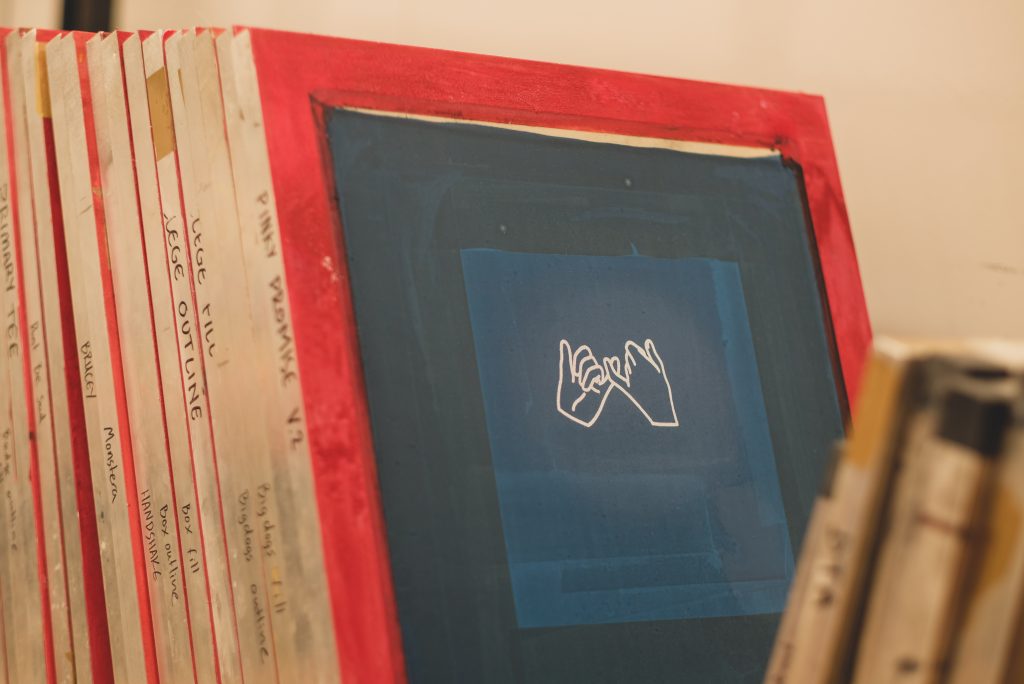 "Gage has always supported our events, whether it's an opening or a new store and we've always had this really good relationship. We've always spoken about a collab, but we've never put it into the works.
"Now we have made it happen and the brief that we talked about was something in line with both brands. It goes back to that jovial language… that easy-going, very Australian and local kind of idea. We wanted it to be summer without being obvious, without using those typical words. So, we came up with 'Day For It', which is one of those things that everyone is guilty of saying. I reckon it really captures the Perth summer and the Aussie summer as well. We've got a design with that slogan, along with a beach umbrella, six pack of Single Fin and a little beach chair. It's all the things that particularly encapsulate Perth, down south or wherever, as summer as a whole. We're really happy with it."
Oli x Gage Roads 'Day For It' tees and socks are available via the Gage Roads online shop, or at oliclothing.com