The hunt for the Golden Fin is underway!
With one Golden Fin hidden in four states (WA, SA, VIC, QLD), the super special Single Fin unlocks the ultimate prize for Gage Roads fans – beer for a year!
That's right, if you're lucky enough to find the Golden Fin, you'll be set for summer (and beyond) with 15 cartons of fresh Gage Roads froths heading your way. That's pretty much a beer a day for a year! Also, if you're the WA winner, you and a mate will receive a personal brewery tour and tasting with our head brewer.
Hidden inside a regular Single Fin six-pack, the exact whereabouts of the Golden Fin is unknown. There's only one way to find it – head down to your local bottle shop, cross your fingers and pick up some Single Fin.
"We all remember the fun of Charlie and the Chocolate Factory's Golden Ticket. We wanted to re-create that for Gage fans. The great thing about the Golden Fin is anyone can win. It all comes down to luck and whoever happens to grab the lucky six-pack from their local bottle shop," says Bec Lauchlan from Gage Roads Brew Co.
As you can see, the Golden Fin looks exactly like a Golden Fin! The traditional Single Fin bottle label has been replaced with a "Golden Fin" version. You won't be able to see it inside the six-pack, so the lucky winner won't know they've struck gold until they get home and crack open a beer.
"The Golden Fin looks pretty cool, but we've made sure it remains hidden inside the six-pack, so you can't see it from the outside. We have no idea where the special Golden Fin has gone – except that there is only one in each state (WA, QLD, VIC & SA).
"We have no idea how long it will take to be found. It could be a day, a few days or even a week. But once the Golden Fin is claimed, we'll announce it on our socials," says Bec.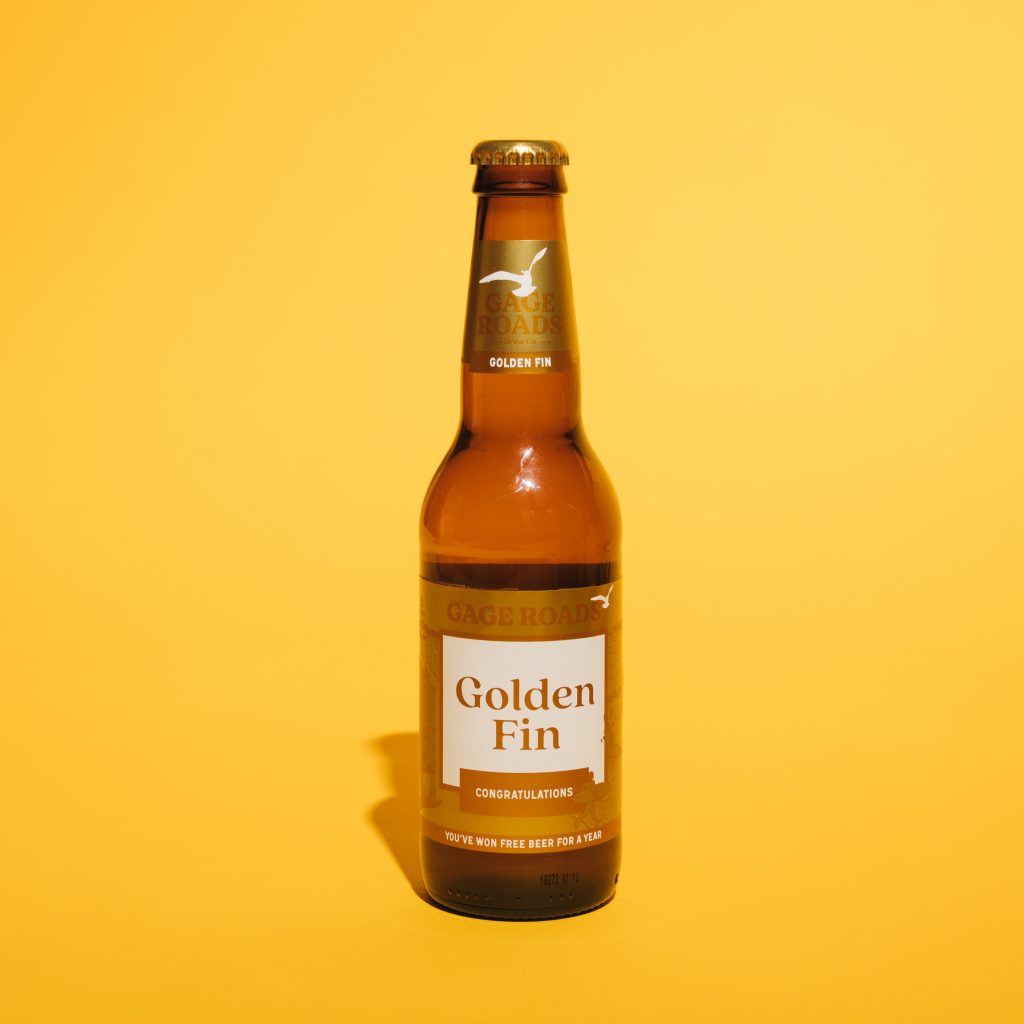 Ts & Cs
The following Terms & Conditions apply to Gage Roads Brew Co. – Golden Fin – Win a Year Beer promotion to be run from 16/11/2020 until 31/12/2020.
Instructions on how redeem the prize is printed on the 'Golden Fin' Label. By participating in this promotion, entrants agree to be bound by these terms and conditions.
Entry is open to all residents of Australia aged 18 and over. Photo identification will be required for collection of the prize.
Employees of Gage Roads Brewing Co and the promoter and their subsidiaries and immediate families, agents, sponsors or any persons connected with devising or promotion of this competition are ineligible to enter.
METHOD OF ENTRY
This is a competition of chance that gives customers the opportunity to go into the draw for four (4) major prizes – one in each state of WA, QLD, VIC and SA.
Redemptions will only be accepted until 31/12/20.
To win, a shopper must purchase Single Fin from the participating retailer and discover the Golden Fin. The winner must post on social media, tagging gage roads and the retailer they purchased the winning product from and also email info@gageroads.com.au declaring the unique code printed on the label. By redeeming the Golden Fin Prize you are agreeing to the terms & conditions.
Gage Roads Brewing Co. may utilise the customer's details for marketing purposes.
MAJOR PRIZE DETAILS AND CONDITIONS
Prize Pack Consists of:
Gage Roads Brew Co – Win a Year's Worth of Beer promotion is based on 15 cartons of Gage Roads Brew Co Beer.
Total Prize Package includes 15 cartons of Gage Roads Brewing Beer. Products included in the prize are – Single Fin, Pipe Dreams, Side Track and Hello Sunshine Cider. The beer or cider can not be swapped or exchanged for anything else.
This prize is not redeemable for cash, transferrable, cannot be sold and must be taken as supplied.
The prize must be collected from the store the 'Golden Fin' was found. A maximum of 5 cartons can be collected every 4 months. Three collections can be made totalling 15 cartons over a 12 month period.
The Major Prize winner must be over the age of 18 years, that winner must produce photo identification to redeem their prize.
It is a condition of entry of this competition that the Major Prize winner must execute these Terms & Conditions before being eligible for the Major Prize.
USE OF PHOTOS etc
All contestants acknowledge that it is a condition of entry that Gage Roads Brew Co has the right to publicise their names, characters, likeness or voices for any promotion or matter incidental to the competition. The winner may also be required by Gage Roads Brew Co to participate in a photo, video and/or film session and acknowledges that Gage Roads Brewing Co have the right to use such publicity photos, video and/or films in any medium/website and in any reasonable manner it sees fit.
It is a condition of entering this competition that contestants consent to their telephone and other conversations with Gage Roads Brew Co.
INDEMNITY
All contestants release from Gage Roads Brew Co, against all liability, cost, loss or expense arising out of acceptance of any prize(s) or participation in this competition including (but not limited to) loss of income, personal injury, accident or death and damage to property and whether direct or consequential, foreseeable, due to any negligent act or omission or otherwise.
The Promoter and associated agencies accept no responsibility for any loss, damage, accident, death or injury resulting from the promotion.
MISCELLANEOUS
The Major Prize winner is required to redeem their prize once found my tagging gage Roads on social media and emailing info@gageroads.com.au. The Promoter will make every attempt to contact the winner; if however a winner does not respond to direct message or email within 7 days of initial contact being made, the winner will forfeit their prize.
Gage Roads Brew Co reserves the right to alter or amend these terms and conditions at any time throughout the promotion.
Gage Roads Brew Co, will not be responsible or liable if for any reason beyond their reasonable control any element of any prize is not provided.
The Promoter reserves the right to disqualify any individual who The Promoter believes has breached any of these terms and conditions, or engaged in any unlawful or other improper misconduct. The Promoter has legal rights to recover damages or other compensation from such an offender. The Promoter decision is final and cannot be contested. No correspondence will be entered into. The Promoter also reserves the right to limit entry or amend rules if considered necessary without notice.
NAME AND ADDRESS OF PROMOTER
Gage Roads Brew Co.
14 Absolon St, Palmyra, WA 6157