More flavour. More aroma. More juice.
That's the ride you'll take with Loop the Lupe Cryo Hop IPA, the new limited release brew from Gage Roads Brewing Co.
"I love West Coast IPA's! When I was in the United States for hop harvest, I visited the Yakima Chief Hops farm and Cryo plant. They were running Idaho 7 Cryo Hops and the smell was out of this world. I couldn't wait to get my hands on some. Loop the Lupe is the perfect beer to showcase it," explains Gage Roads Head Brewer Ross Brown.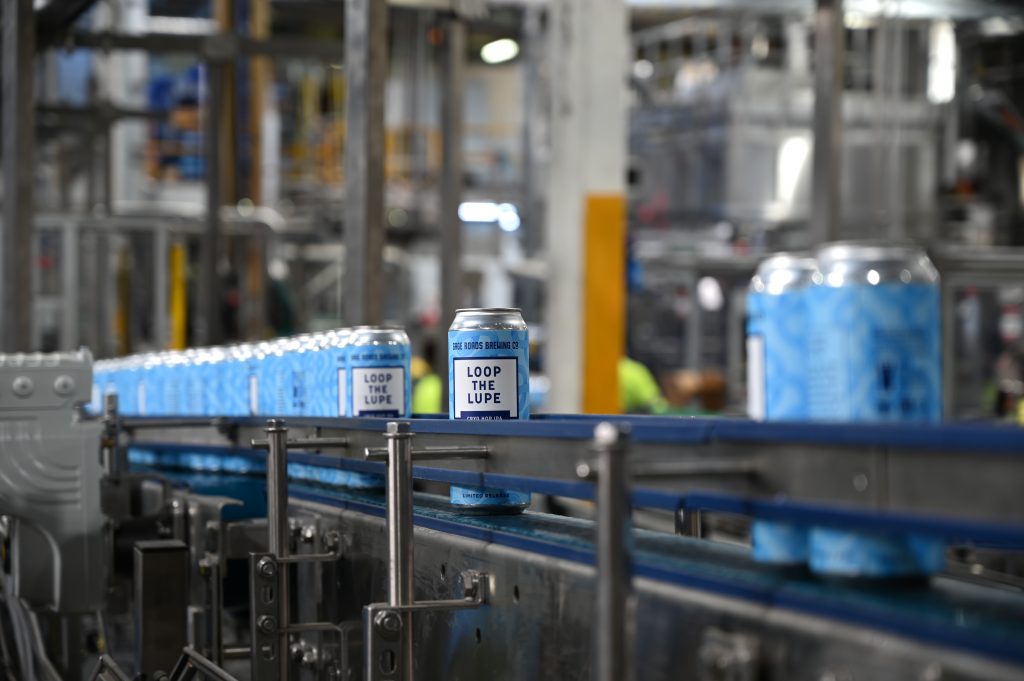 Loop the Lupe showcases cryo hops, a super-charged hop concentrate that's taking the craft beer world by storm.
"Cryo hops are frozen with liquid nitrogen and the lupulin glands (part of the hop plant where the aroma and essential oils are found) are then separated from the vegetative hop material, concentrating all the bitterness and flavoursome hop oils.
"I find Cryo hops deliver a very distinct, clean hop character specific to each variety. You don't get so much of the grassy and astringent characters that can come from dry hopping heavily with traditional pellets. It gives some great integration of hop flavour on the palate and a super fresh aroma," says Ross.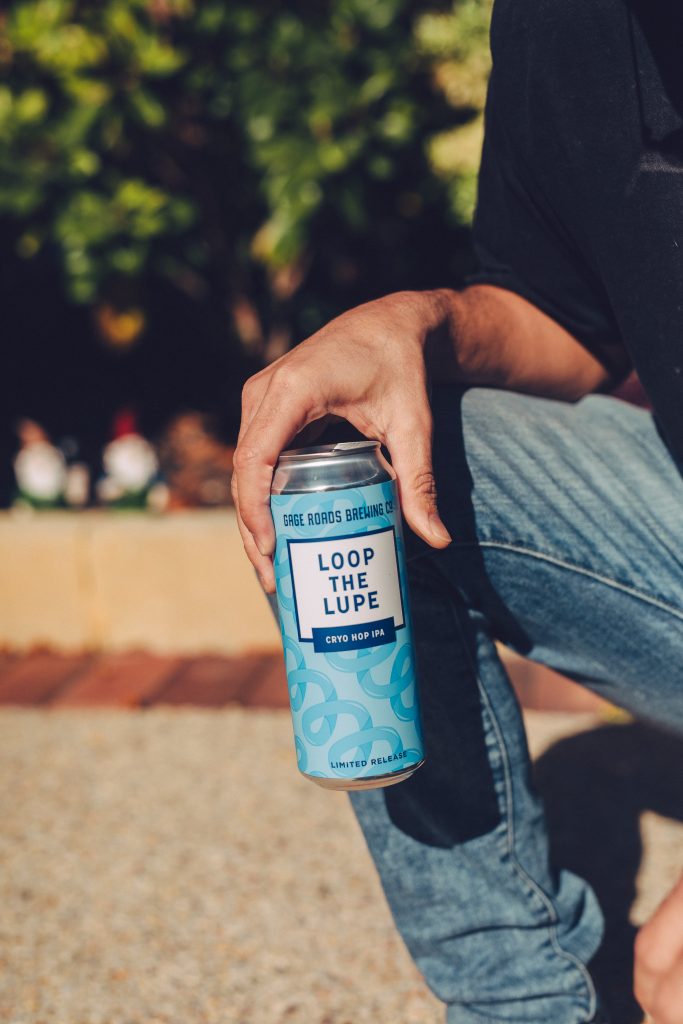 Loop the Lupe is brewed with a hop trifecta of Idaho 7, Citra and Azacca, helping it pack a punch with amped-up bursts of tangerine, stone fruit and resin. The West Coast IPA is anchored with rounded malt and firm bitterness.
"I love the ripe tangerine and pine, layered with tropical notes. A bold, balanced hop character, with sticky resin and moreish bitterness. It's all about the lupulin – a big, hoppy, resinous ride!"
It's the first time Gage Roads Brewing Co has created a beer entirely with Cryo hops – a challenge the brew team were keen to tackle.
"I've never used 100% Cryo hop in our beers, so it was an exciting prospect to get the chance to go 'all in' with Loop the Lupe. Cryo hops can be a little more challenging to use for dry hopping. We've made a purpose-built device dubbed the "Hoptopus" to get as much hoppy goodness into the beer."
Loop the Lupe is available nationally. Check the list below for your closest stockist. And remember to call ahead, as stock is limited.
WA
Besk, Mane Liquor, Dutch Trading Co, Bottle-O Rossmoyne, Kewdale Tavern, Stirling Arms, Sexton Cellars, Thirsty Camel Maddington, Con's City Beach, Gangemi's, Cellarbrations Rivervale, Bottle-O Vic Park, Cellarbrations Belmont, Como Liquor Store, De Vine Cellars Inglewood, De Vine Cellars Noranda, Liquor Barons Bullcreek, Liquor Barons Windsor Hotel, Cellarbrations Lynwood, Cellarbrations Wattle Grove, Cellarbrations Mundaring, Cellarbrations Carlisle, Cellarbrations Asquith Cellars, Bottle-O Kiara, Cellarbrations Maylands Tavern, Stoneville Liquor Store, Cellarbrations Helena Valley, Bottlemart Como, Aubin Grove, Armadale Tavern, Baldivis Liquor, Beaconsfield Hotel, Bottle-O Rockingham, Byford Tavern, Cellarbrations Ardross, Cellarbrations Austin Lakes, Cellarbrations Market City, Cellarbrations Baldivis, Cellarbrations Beeliar, Cellarbrations Emporio, Cellarbrations Mandurah Super Store, Cellarbrations Meadow Springs, Cellarbrations Safety Bay, Cellarbrations Super Store Hamilton, Cellarbrations Willagee, Cellarbrations Medina, Cellarbrations PK Fresh, Cellarbrations Pt Mandurah, Challis Liquor, CY Oconnor, Fremantle Bottle Shop, Golden Bay Liquor, Haynes, Kardy, Kwinana Beach Liquor, Liquor Barons Applecross, Liquor Barons Armadale, Liquor Barons Beaconsfield, Liquor Barons Hamilton Tavern, Liquor Barons Melville, Liquor Barons Naval Base, Liquor Barons Seascapes, Liquor Shed, Marina Cellars, Mundijong Liquor, PK Tavern, The Gate, The Quarie, The Vale, Whistling Kite, Winthrop Liquor, Aussie Bertram, Aussie Cockburn, Aussie Atwell, Serpentine Liquor store, Cellarbrations Malibu, Dunsborough Cellars, Cape Cellars, Cellarbrations Mount Barker, Liquor Barons Esperance, Castletown Liquor, Settlers Liquor, Liquor Barons Eaton, Liquor Barons Bunbury, Liquor Barons Boyanup, The River Hotel, Cellarbrations Donnybrook, Cellarbrations Capel, Scarborough Cellars, Cellarbrations Pearsall, Liquor Barons Nedlands, Thirsty Camerl North Beach, Cellarbrations Glendalough, Liquor Barons Duncraig, Liquor Barons Hillarys, Cellarbrations Yokine, Liquor Barons Connolly, Swanbourne Cellars, Claremont Cellars, Porters Liquor Claremont, Liberty Liquor, Old Bridge Cellars, Liquor Barons Greenwood, Kinross Liquor Store, The Ashby, Copper & Oak, Liquor Barons Mosman Park, Beldon Tavern, Wembley Boutique, Kinross Liquor Store, Liquor Barons Leederville, Nollamara Liquor Store, Candlewood Liquor Store, Yanchep Bottle-O, Cellarbrations Wonthella, Cellarbrations Sunsets, Cellarbrations Wonthella, Wembley Hotel, Main street cellars
QLD
Kingscliff Cellars, Pacific Fair Cellarbrataions, Vine Liquor Mart Cleveland, Aspley Hotel Cellarbrations Drive Thru, Mitchelton Cellarbrations, Wavell Heights Cellarbrations, Mackenzie Row Cellarbrations Toowoomba, Full Moon Hotel Bottlemart Sandgate, Full Moon Bottlemart Boondal, Full Moon IBIS Bottlemart Sandgate, Start Liquor Domain Central Townsville, Star Liquor Richlands, Sense Of Taste Portside, Streetcorner Jimmy Teneriffe, Surfair Cellarbrations, Yandina Hotel, Cellarbrations Wises Rd, Cellarbrations Birtinya, Crow N Arrow Bar, Star Liquor Yeppoon, Star Liquor Park Ave, Star Liquor Gladstone Central; Rucnorn Tavern
NSW
Booze Bud, Roma Vino, Cromer Cellars, Warners at Bay, Bottle-O Lambton, Beer Cartel, Tacking P Tav, Glebe Wine Shop, Bottlemart Leichhardt, Liquor Land Ashfield, Camperdown Cellars Cremorne, Cameron Park Cellarbrations, BYO Cellars Coffs Harbour, Ritchies Boambee, Midway Cellars, Parkhouse Mona Vale, Blue Gum Bottlemart, Porters North Narrabeen, Sketch Bar Manly, Bayfields Dee Why, Bayfields Belrose, Cobb & Co Bathurst, Bilgola Cellars, Liquor Central Pennant Hills, Kahibah Cellars, IGA St Ives, Eastwood Liquor, Plonk Fyshwick, Plonk Belconnen, Candamber Fine Wines, Corks Lanyon, Liquor Legends Phillip, Flow Bottleshop Mawson, The Tudor Hotel, Camperdown Cellars Camperdown, Leura Cellars, Hazelbrook Cellars
VIC
Grosvenor Hotel, Prahran Grocer, Acland Cellars, Cellarbrations Middle Park, Grovedale Hotel, Bottlemart Melton Sth, Cheapa Wines Seddon, The Local Sunbury, Harry Brown Craigieburn, Albion Budget Supermarket, Waterdale Cellars, McCoppins Fitzroy, McCoppins Abbotsford, Cellarbrations Yarraville, Chas Cole Cellars, Porters Moonee Ponds, Cellarbrations Tottenham, Supa IGA Werribee, Cellarbrations at Najda (Geelong), Malt and Vine Newport, Hopheads Altona & Point Cook, Mat's Cellarbrations Mt Clear, Mat's Cellarbrations Wendouree, Mat's Cellarbrations Alfredton, Strathmore Cellars, Brunswick Supa IGA
SA
Angas Park Cellars, Bridgeport Hotel, Cellarbrations Moana Heights, Eyre Cellarbrations, Parade Cellars, Semaphore Road Cellars, Sportsmans Tavern, Stirling Hotel, Urban cellars Mt Barker