We've all had the idea. You know the one, you're a few beers deep with your mates and you start yarning about "the dream". It could be a project you're keen to dig into. A place you want to live. Something you want to build. Whatever it is, it's you living the dream. Our new froth, Pipe Dreams Coastal Lager is all about that. Each month, you'll meet someone living the dream in their own way.
This month, meet Scottee Bradley. His dream is to turn an old school bus into a home on wheels. Just to make it more interesting, he's only given himself eight weeks to finish the job. A nomad at heart, Scottee's plan is to take the bus on the road, go remote and explore his own backyard.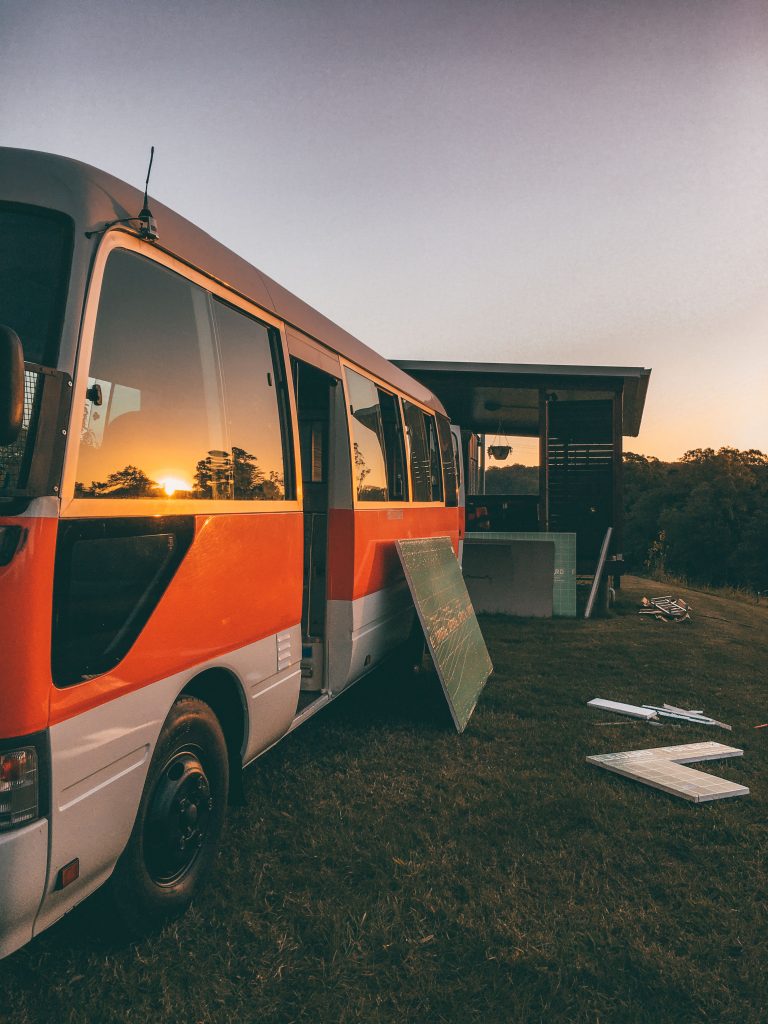 A farmer, a school bus and some insta inspo
"I've always wanted to have a crack at building my own camper van but being the travelling nomad I am, I haven't really stayed in one place long enough or had the space to build one. Then with the lockdowns happening, I spoke with the farm owner where I was living, about the possibility of building a camper van. They were super keen and supportive of the idea!
"I have to admit, good ol' Instagram has been a solid source of the inspiration, watching people use their creative imaginations to turn their dreams into a work of art. I gotta admit, they make it look so easy on social media!"
A shower under the stars
"The bus is a licensed two-seater and will be reduced to under 4.5 tonne which means I can drive it on a car licence. I decided against an inbuilt shower and toilet as I wanted there to be as much internal space inside as possible. It will have an outdoor shower for those times of isolation, so you can shower under the stars. And there's a Port-a-Potty under the couch for the moments in need. I figured you are best having one and not needing it, than needing it and not having one!
"The bed will be queen size Tempur mattress for those blissful nights of sleep. There's an induction cooktop for indoor cooking, and something a little different – a large breakfast bench. I enjoy sitting on a stool and looking out into the open whilst I'm chilling or eating so I thought to make that a permanent feature. Upstairs will have a 1.7m x 1.7m roof deck for those beautiful sunset moments or just somewhere else to smash back a cold beer and enjoy the serenity."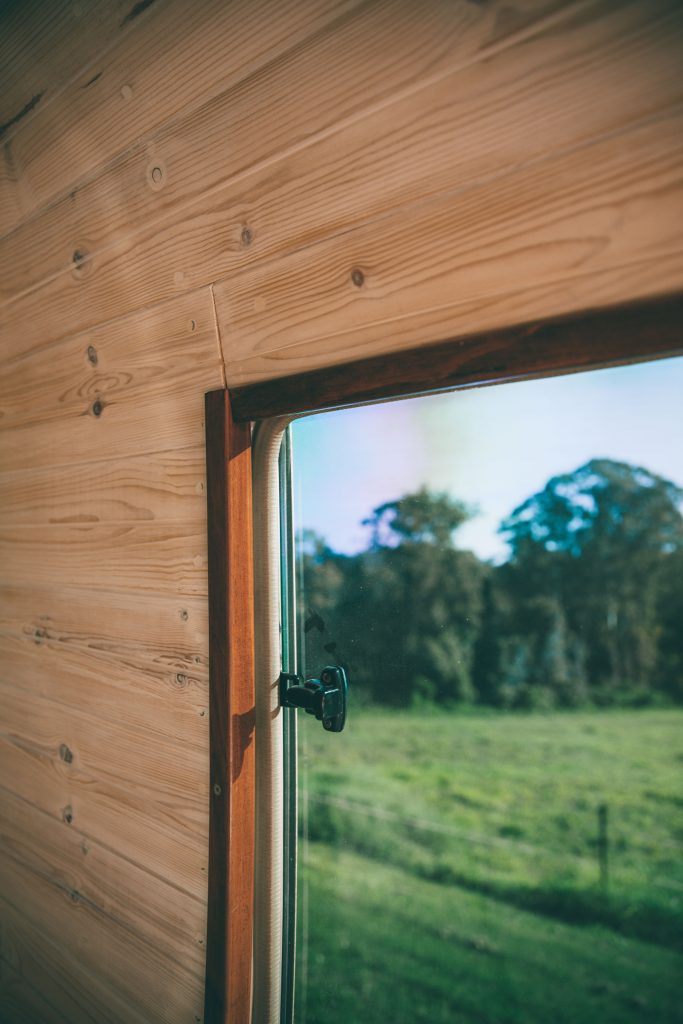 WTF are you doing Scottee?
"The biggest challenge was… EVERYTHING!!! I entered this project with absolutely no experience and no idea what I was doing, while building this out in the elements on a grass paddock on a hobby farm. I picked up the bus on a Wednesday and got stuck into stripping it first thing Thursday. Going in guns blazing, thinking it was going to be a walk in the park, I soon realised this was something that requires the 3 P's. Planning, patience and persistence! The nearest Bunnings was 40 minutes away, which didn't make life any easier too, so every time I had a to make a trip there I needed to ensure I had a decent list of everything to make it worthwhile. I worked on it pretty much six days a week, 12 hours a day for eight weeks straight. The days flew by and I'd miss lunches on a regular basis cause I was in the zone to get that task done. There were some pretty stressful days when items were sent out and were wrong, or the delivery delayed. Sometimes things just wouldn't line up like they should have. There were plenty of moments where I told myself 'WTF are you thinking Scottee, you're way in over your head'. But I had some amazing people and support to give me a kick in the butt when it all got a little overwhelming, which I am extremely grateful for.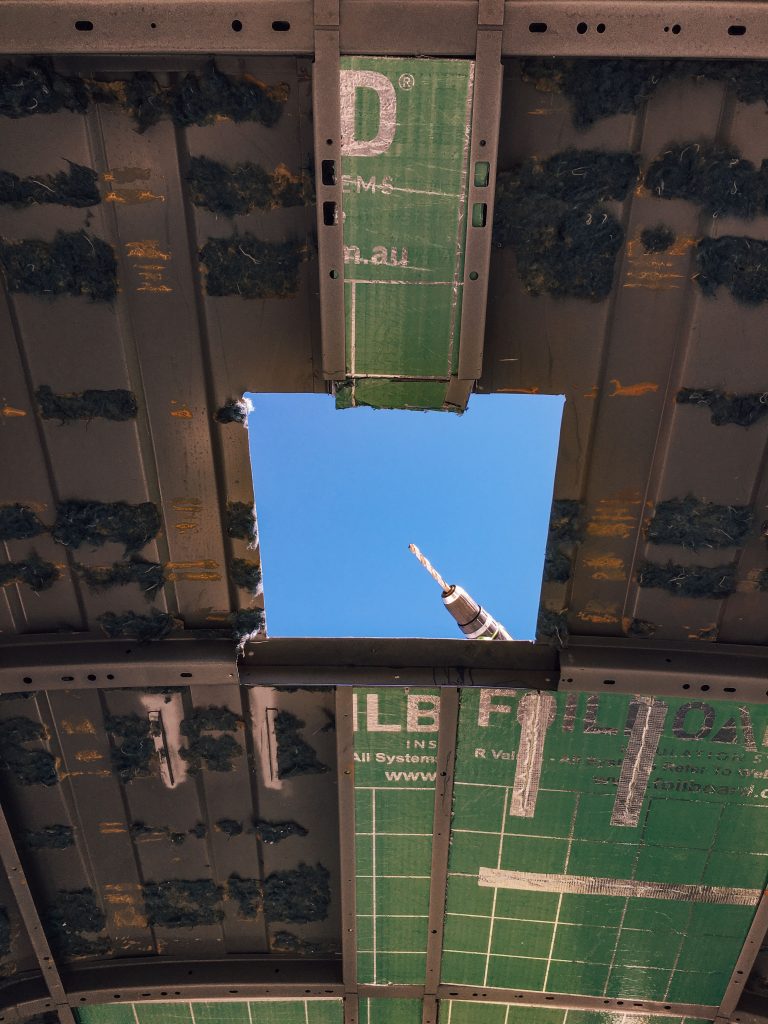 Chase the sun
"Once it's completed the plan is to live in it full time. I work shutdowns in the FIFO industry so it can be a few weeks of work here and there, then nothing for a few months. Seeing I cant go overseas adventuring, I figured to build the bus so I had my home on wheels that I could park up at potential spots and work on farms, properties or whatever someone needed help with, in exchange for somewhere to park the bus and food on the table.
"I'll be keen to chase the sun, learn new skills and travel to all parts to explore this amazing country we live in.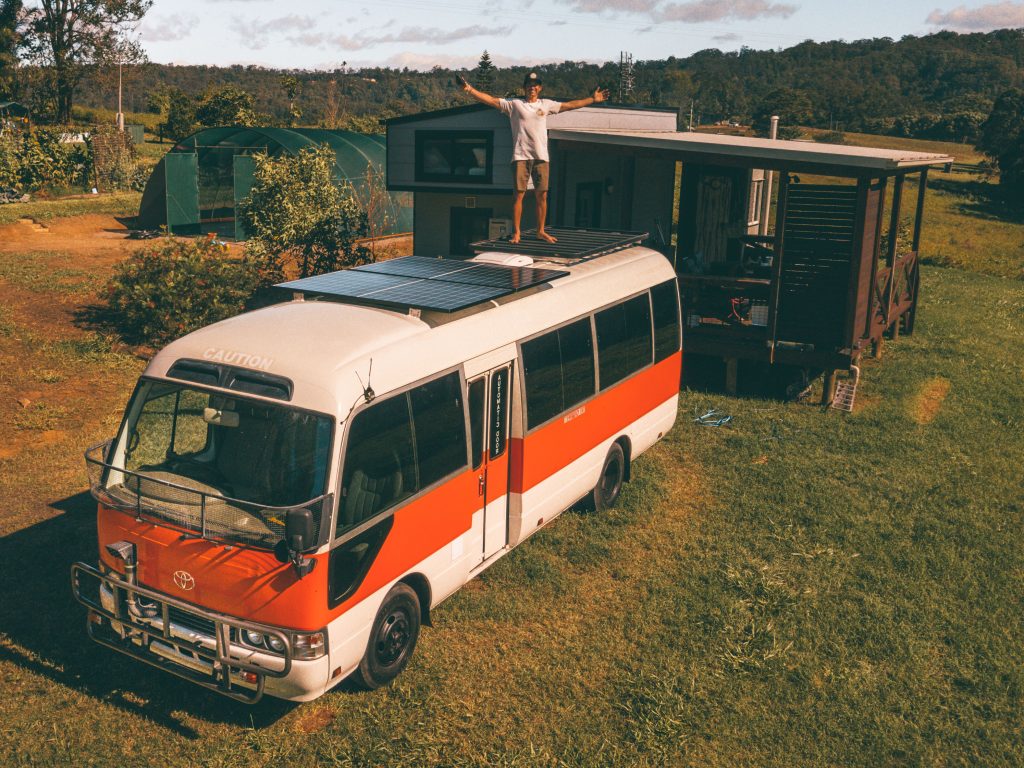 Living the Dream
"Living the dream. It's funny you say that cause I always use the hashtag #livingthedream on my insta posts when I travel. To me living the dream is living YOUR dream, whatever that may be.
"Everyone has different passions and their own purpose, so it's about doing what truly makes you happy. For me it's about exploring this amazing planet we call home, meeting amazing people, tasting delicious food, experiencing vibrant cultures and being blown away by stunning scenery. With all the restrictions happening not allowing overseas travel, it's time to start living the dream in my own backyard. I've kinda lived life in reverse a bit, buying my first house when I was 23 and being a slave to the mortgage for many years. But as I get older, I realised that less is more, and time and freedom is absolutely everything."
Pipe Dreams Coastal Lager is new from Gage Roads. Imagine jumping into the ocean, your first swim of the summer. We've bottled that feeling in this lager. Crisp, clean and refreshing, with a zesty citrus aroma and smooth bitterness. Brewed naturally with nothing more than water, hops, yeast and malt. Live the dream.