Meet our new golden boy, VHA!
The limited release is an easy-drinking celebration of hop flavours and aromas – double dry hopped with a trio of Galaxy, Mosaic and Azacca. It's bursting with tropical fruit aromas and rich passionfruit. Grounded with heritage barley malt to deliver a smooth ale with gentle bitterness. Available in tall 500ml can and on tap.
Gage Roads Brewing Head Brewer Ross Brown says VHA (Very Hoppy Ale) is no ordinary pale ale.
"The double dry hop packs so much flavour into the beer. It's super smooth and drinks really well.
"VHA showcases my favourite hops at the moment in Azacca, Galaxy and Mosaic. That trio comes together to create big tropical fruit bowl aromas. There's plenty of passionfruit, mango and guava. There's a touch of spice and the heritage malt variety we used adds richness and integrates the hop characters on the palate."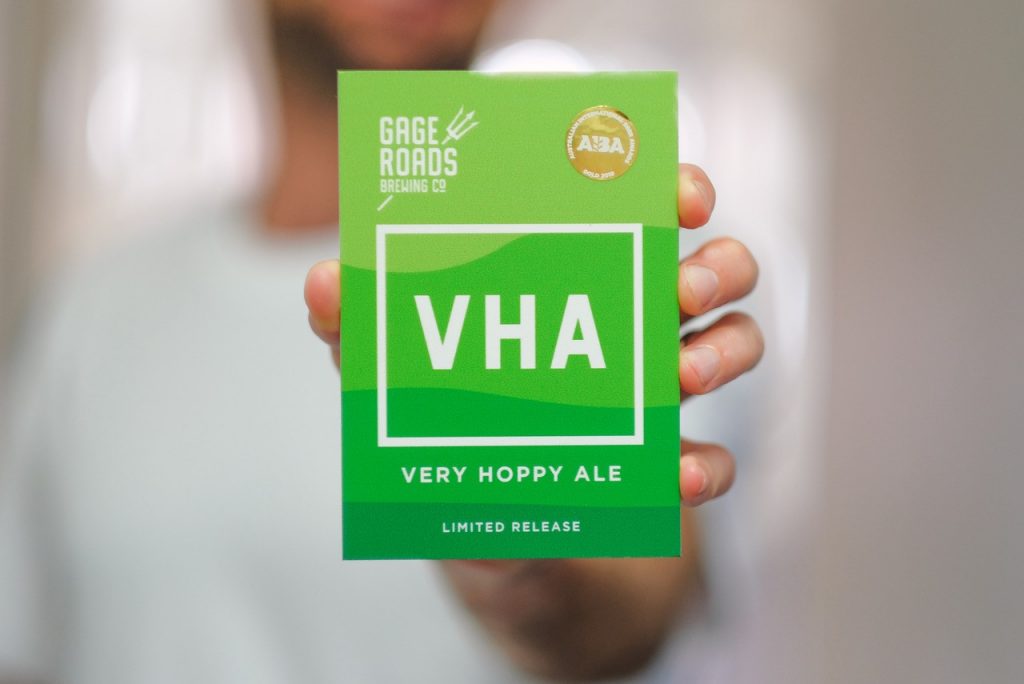 Prior to release, VHA was entered into three key beer awards around the country. The brew claimed gold at the Australian International Beer Awards, Sydney Royal Beer and Cider Show and Perth Royal Beer Awards.
"We never expect the results, but it's great recognition for our team of brewers. We're all really proud of the beer we produce. It was fantastic to see VHA do so well at a number of different competitions. I've got to admit, there was a bit of a buzz as VHA came through the brewery and that led to plenty of tasting along the way to check it was on track," said Brown.
VHA is a limited release and available while stocks last. It's hitting WA locations this week (locations below) and the east coast very soon.
WA| CANS
ASQUITH CELLARS; AUBIN GROVE LIQUOR; AUSTIN LAKES IGA/CELLARBRATIONS; BALDIVIS CELLARBRATIONS; BALDIVIS LIQUOR STORE; BESK; BIBRA FOOD & LIQUOR; BOTTLEMART COMO; BYFORD TAVERN; C Y O'CONNOR VILLAGE PUB; CANDLEWOOD LIQUOR STORE; CELLARBRATIONS AT HELENA VALLEY; CELLARBRATIONS AT LYNWOOD VILLAGE; CELLARBRATIONS @ ARDROSS; CELLARBRATIONS @ CARLISLE; CELLARBRATIONS @ SAFETY BAY; CELLARBRATIONS AT BEELIAR; CELLARBRATIONS AT EATON; CELLARBRATIONS AT NEWMAN; CELLARBRATIONS DUNCRAI; CELLARBRATIONS MULLALOO; CELLARBRATIONS SUBIACO; CHALLIS LIQUOR STORE; CLAREMONT CELLARS; CELLARBRATIONS @ MEADOW SPRINGS; COPPER & OAK LIQUOR MERCHANTS (TUART HILL); CORKERS CELLARS; DE VINE CELLARS MT LAWLEY; DE VINE CELLARS NORANDA; DENMARK TAVERN; DUE SOUTH – CELLARBRATION; DUNSBOROUGH CELLARS; EMPIRE BAR; GANGEMI'S FINE WINE & FOOD; GLENDALOUGH STORE; GOLDEN BAY LIQUOR STORE; GRAND CRU WINESHOP & CELLARS; HAYNES BAR & GRILL; HILLARYS CELLARS; INNALOO SPECIALTY LIQUOR; JOHNS FOOD & LIQUOR; KWINANA BEACH LIQUOR STORE; LEGENDS BAR & BOTTLESHOP; LIQUOR BARONS APPLECROSS (IGA); LIQUOR BARONS BAYSWATER; LIQUOR BARONS BOYANUP; LIQUOR BARONS BULLCREEK (PARRY PLACE); LIQUOR BARONS CARLISLE; LIQUOR BARONS CONNOLLY; LIQUOR BARONS ELLENBROOK; LIQUOR BARONS ESPERANCE; LIQUOR BARONS FARMER JACKS SUBIACO; LIQUOR BARONS GEORGE ST EAST FREMANTLE; LIQUOR BARONS GREENWOOD; LIQUOR BARONS NEDLANDS; LIQUOR BARONS PERTH CITY; LIQUOR BARONS SWANBOURNE; LITTLE GROVE; LOT 20; LUCKIES LIQUOR; MANDURAH CELLARS; MANE LIQUOR ASCOT; MANE LIQUOR ASCOT; MARGARET RIVER RESORT; MARINA CELLARS; MARMION VILLAGE; MINIBAR; MORLEY BAR & BISTRO; MOUNT BARKER LIQUOR STORE; MUNDARING LIQUOR STORE; OLD BRIDGE CELLARS; OSBORNE PARK HOTEL; PEARSALL IGA PLUS LIQUOR; PEELS LIQ MERCHANTS; PREVELLY LIQUOR STORE; QUILLS EATERY; ROCKINGHAM IGA X-PRESS; ROSE HOTEL BUNBURY; SCARBOROUGH CELLARS; SETTLERS LIQUOR STORE; SEXTON CELLARS; SISTERS SUPA IGA; SOUTH ST LIQUOR; STIRLING ARMS HOTEL; THE GATE BAR & BISTRO; THE KARDINYA TAVERN; THE KEWDALE TAVERN; THE LIQUOR SHED; THE QUARIE BAR & BRASSERIE; THE SANDBAR; THE VALE BAR & BRASSERIE; THIRSTY CAMEL MADDINGTON; WATTLE GROVE LIQUOR; WEMBLEY BOUTIQUE LIQUOR; WEMBLEY HOTEL; WESTERN CELLARS MANNING; WHISTLING KITE; WILLAGEE LIQUOR STORE ; WINTHROP LIQUOR STORE; WITCHY LIQUOR; WONTHELLA IGA – CELLARBRATIONS
WA| TAP
HOTEL ROTTNEST; QUARTER ACRE HOTEL; THE KEWDALE TAVERN; AMBAR NIGHTCLUB; KAILIS BEACH CAFE TRIGG; COCKBURN ICE ARENAL LALLA ROOKH BAR & EATING HOUSE; W CHURCHILL; BEERPOURIUM; CHAPEL FARM COP; THE KARDINYA TAVERN; LEISURE INN; THE LOCAL HOTEL; LIQUOR BARONS WINDSOR CELLARS; FEDERAL BOUTIQUE HOTEL; MULBERRY ON SWAN; PEN MANDURAH; MARGARET RIVER RESORT; RUSTICO TAPAS; EAST FREMANTLE YACHT CLUB; COLLECTIVE ROCKINGHAM; AUSTIN LAKES IGA/CELLARBRATIONS; DUNSBOROUGH HOTEL
VIC| CANS
MCCOPPINS ABBOTSFORD; MCCOPPINS FITZROY; RAILWAY HTL-WINDSOR; DRUMS HOTEL; WESTGARTH LIQUOR; CHEAPER WINES (SEDDON); PENNY YOUNG; GRAPE & GRAIN LIQUOR CELLARS; THE HOP INN MT DUNEED; GROVEDALE HOTEL; BRUNSWICK SUPA IGA; TORQUAY HOTEL ; GROSVENOR HOTEL; ALBION BUDGET S/MARKET; PORTERS LIQUOR MOONEE PONDS; GOONAWARRA LIQUOR SHOP; HARRY BROWN CRAIGIEBURN; HOP TEMPLE; BOTTLE HUB; BARRINGTON LIQUOR; EDINBURGH CASTLE HOTEL;FOODWORKS BACCHUS MARSH; CELLARBRATIONS AT FOXXY'S DAYLESFORD; DNC STRATHMORE CELLARS; CELLARBRATIONS AT YARRAVILLE; CELLARBRATIONS AT MT CLEAR; CELLARBRATIONS AT SOMERVILLE; CELLARBRATIONS AT NAJDA'S; CELLARBRATIONS AT ALFREDTON; CELLARBRATIONS SUPERSTORE KILMORE; CELLARBRATIONS AT BANNOCKBURN; CELLARBRATIONS AT WENDOUREE
VIC| TAP
PARK HOTEL; BARKING DOG; THE HOP INN MT DUNEED; HOP TEMPLE; HOPHEADS ALTONA; HARDIMANS HOTEL
NSW
PORTERS NORTH NARRABEEN; CUTTY CELLARS; BLAXLAND CELLARS; WARRIEWOOD IGA; IGA ST IVES; CELLARBRATIONS AT WARILLA
QLD
PEREGIAN BEACH HOTEL CELLARBRATIONS; PARKLANDS TAVERN; CRAFTY FOX ALEHOUSE; STREET CORNER JIMMY; SCOTTISH PRINCE; BINE BAR & DINING; FULL MOON BOONDALL; THE PUB AT AUSSIE WORLD; NARANGBA VALLEY TAVERN
SA
OXFORD HOTEL; PARADE CELLARS; GOODWOOD CELLARS; BELAIR FINE WINES; STIRLING HOTEL; BRIDGEWAY HOTEL; HOTEL CROWN; SEVEN STARS HOTEL; EARL OF LEICESTER HOTEL; EDINBURGH HOTEL & CELLARS; CELLARBRATIONS FREWVILLE; HIGHWAY HOTEL; MODBURY HOTEL; CRITERION TAVERN; ANGAS PARK CELLARS; PRINCE ALBERT HOTEL; NORTHERN TAVERN; CELLARBRATIONS MT BARKER; ROYAL FAMILY HOTEL; OLD SPOT HOTEL