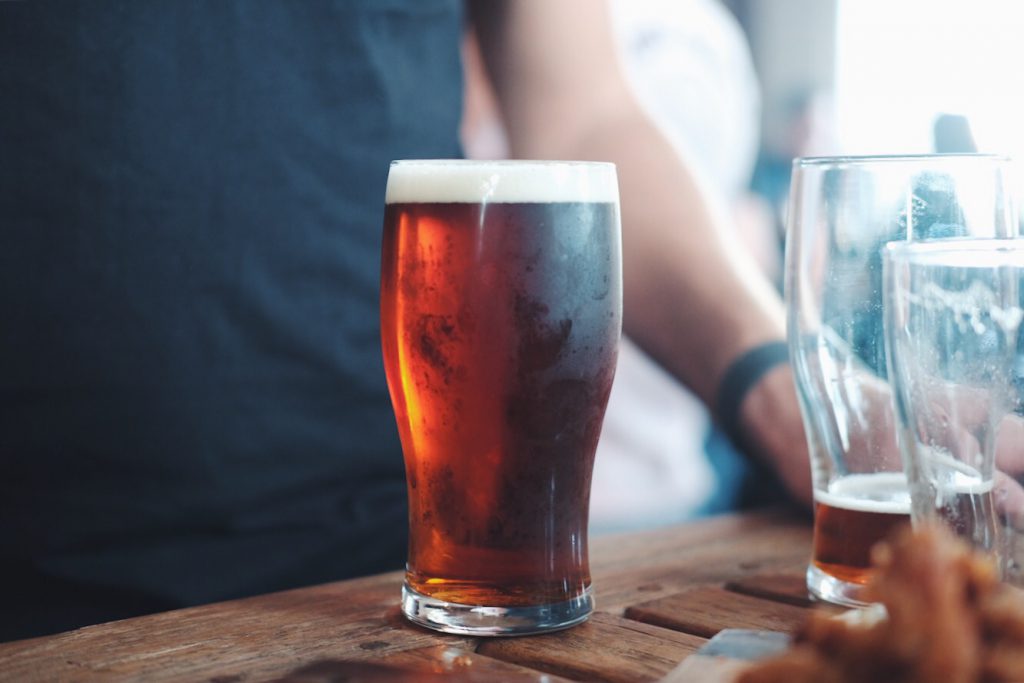 Our Red Rye IPA is back
We picked up a bunch of gongs at last year's Sydney Royal Beer & Cider Competition, including Champion Draught Beer and Best in Show for our Red Rye IPA. The Sydney comp is consistently rated as one of the toughest in the country, so needless to say, we were pretty stoked.
With summer winding up and some cooler weather on the way, we thought it'd be nice to have something a little more malty in the fridge. One good turn deserves another, so here it is: a re-brew of Red Rye IPA.
Just like last time, Red Rye will be available in extremely limited quantities at red hot (no pun intended) draught venues (list below), and specialty bottle shops across the country.
What's it taste like? Good beer! If you're someone that just has to know the full scoop… Red Rye IPA is an American-style beer, characterised by citrus hops, rich maltiness, and a dry finish courtesy of the malted rye.
This is what the brew team had to say:
"Rye is commonly used in the production of Whiskey, so it's kind of unique to use it in a beer. It gives the beer a really spicy, dry character that you typically can't achieve with malted barley alone" – Aaron Heary (want to here more from the man behind the beers? Click click click)
Venues (alphabetical order, no favourites)
NSW
The Bank (Newtown), The Beach Club (Collaroy), The Clock (Surry Hills), Harts Pub (The Rocks), The Horse (Surry Hills), Keg & Brew (Surry Hills), The Taphouse (Darlinghurst), Trinity (Surry Hills), The Village Crown (Zetland), The Wild Rover (Surry Hills)
QLD
The Alliance Hotel (Spring Hill), Aquila Café (CBD), The Black Brisbane, Bloodhound Bar (Fortitude Valley), Brewski (CBD), Cambus Wallace (Mermaid Beach), The Dock, The Old Clare in (Chippendale), One Up Bar (Mooloolaba), Osbourne Hotel (Fortitude Valley), Sacromycees, Spotted Cow in (Toowoomba) Stables Craft Bar (Ascot), Taps (Mooloolaba), Woolly Mammoth (Fortitude Valley), Zero Fox (Teneriffe)
VIC
Bar Josephine (Footscray), Boilermaker House (CBD), Bridge Hotel (Richmond), Captain Melville (CBD), The Catfish (Fitzroy), Cherry Tree Hotel (Cremorne), Cookie (CBD), The Empress (Fitzroy North), Fancy Hanks & Good Heavens (CBD), Fitzroy Beer Garden (…really?), Freddie Wimpoles (St Kilda), Hats & Tatts (South Melbourne), Heartbreaker (CBD), Jimmy's Tap & Barrel (Ascot Vale), The Lincoln (Carlton), The Local Taphouse (St Kilda), Loop Bar & Rooftop (CBD), The Park (Werribee), The Rochey (Fitzroy), The Royston (Abbotsford), Rupert's (Collingwood), Slowbeer (Richmond, Fitzroy), Whitehart (CBD) , Workshop Bar (CBD)
WA
The Balmoral (Vic Park), Bill's (Leederville), The Bird (Northbridge), Clancy's (Freo, Canning Bridge, Dunsborough), The Collective (Rockingham), Due South (Albany), Five Bar (Mt Lawley), Flic's Kitchen (Mandurah), The Goose (Busselton), Kalamunda Hotel (Kalamunda), Kardinya Tavern (Kardinya), The Local Hotel (South Freo), Loose Goose (Esperance), Mad Dog's (CBD), Minibar (Rockingham), The Norfolk (Freo), The Paddo (Mt Hawthorn), The Quarie (Success), Raffles Hotel (Applecross), The River Hotel (Margaret River), Rodney's Bait n Tackle (Mosman Park), Stable Hands (Freo), The Standard (Northbridge), Swings Taphouse (Margaret River)