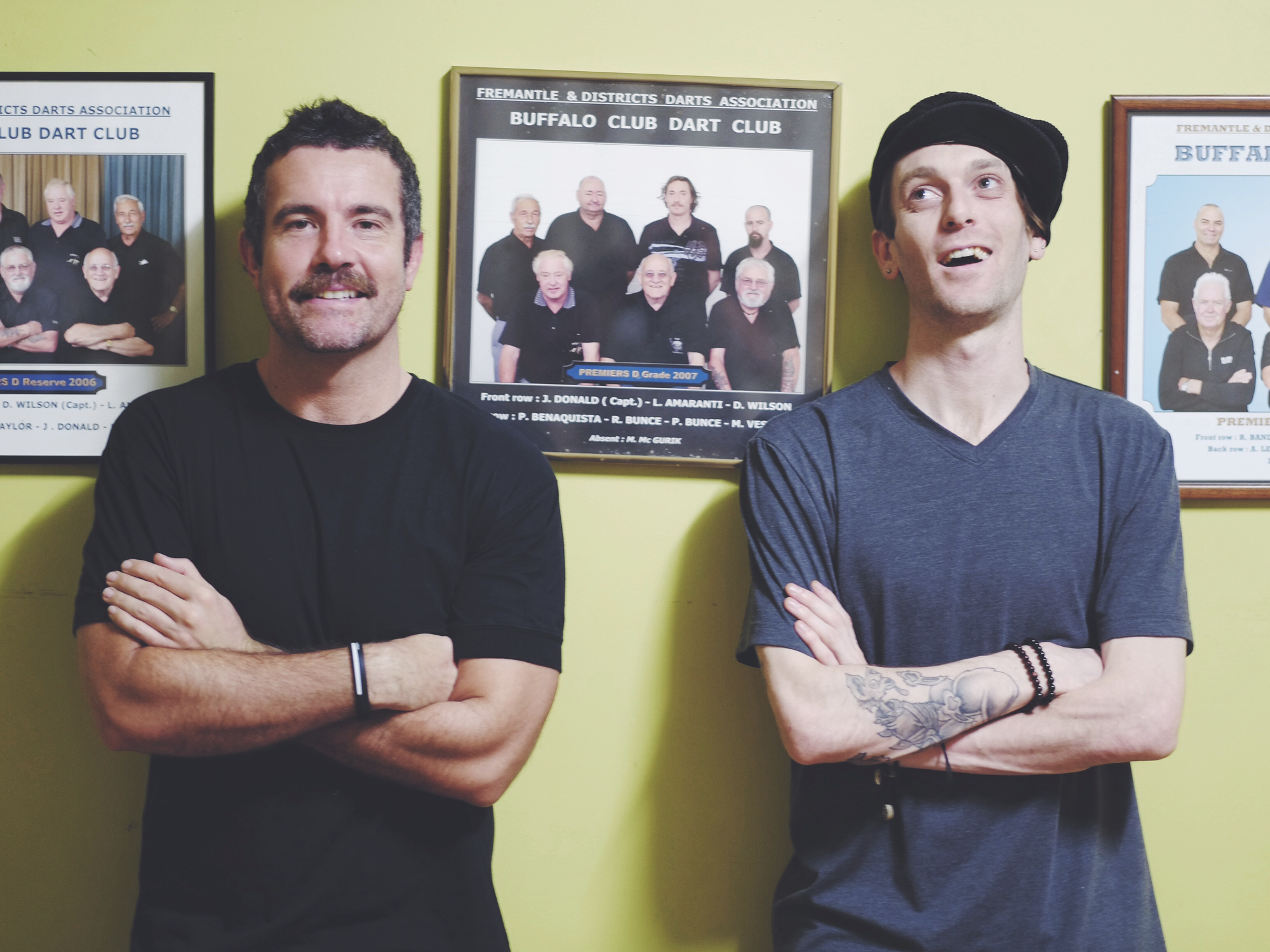 Thursday night is a seductive weekend entree usually served cold. But not this week. This week, it's a sizzling smorgasbord of cultural anomalies. From circus 'freaks' and mermaids, to burlesque shows and stand up, the wonderful world of Fringe is upon us. Last night we deviated from the usual to catch Jacques Barrett and Bryan O'Gorman's deviant Boomerangs and Beavertails Part III: The Wreckoning. Like all good Fringe shows, we had no idea what to expect and walked out of the Buffalo Club in Fremantle needing more than a few stitches and feeling just a little bit more uncomfortable than when we went in. The duo ensured we chuckled our way through a tag-team barrage covering everything from marriage to divorce and all juicy stuff in between.
After the show we chewed the fat with Jacques (the guy on the left) to get his take on creating a great joke. We got a little more than we bargained for, so if you're not down with colourful language, look away now. You can catch the boys and all the other Freo Royale shows here.  Rating: 4/5 pints of beer.
A/S/L?
Age: 36 (Birthday was 2 days ago, feeling fresh), Sex: Once in Noosa, Location: The Vajayjay.
Your partner in crime is Bryan O'Gorman, what can we expect from the show?
He's a rapid-fire, Canadian, club, comic and I'm no slouch in the gags per minute stakes either. Expect biting, fast-paced, social commentary. If that fails, we've got plenty of dick jokes.
Law aside, what's the best way to handle a heckler?
String 'em up on stage and have the audience throw their shoes at 'em. A good old fashioned public shoe-ing. Hopefully there's a few Rockingham hen's parties in.
Does your tomato sauce live in the fridge or the pantry?
Fridge. I'm a Queenslander through 'n' through, so tomato sauce (train crash as we call it) is more a cooling agent than a condiment.
You've been doing this comedy thing for a while. We figure you're an expert. What are the five stages of telling a great joke?
1. Open with a seemingly implausible premise/hypothesis about a socially taboo topic. The more fringe the better. This'll get the crowd's undivided attention. You'll feel (and hear) their sphincters tighten.
2. Briefly explain the finer details of the taboo topic. This is the lubricating process. Pepper it with phrases like "I know a lot of women say they aren't into it…"
3. Then, cut straight to the unspoken truth about the topic. Open it right up. You might say something like "but ladies, if Magic Mike was holding a tube of KY and pointed it at you, you'd totally do it…". You'll hear the audience laugh nervously, some knowingly.
4. Then comes the 'turn', misdirecting the audience. At this point, I'd invite a couple onto stage (the older the better), put a Channing Tatum mask on him and attach a strap-on to her, then cover them both in KY. The audience would laugh… but I wouldn't let the couple leave until they both finished because, the truth is, I don't really know how to write jokes and there's no free wifi where I'm staying.
5. Give everyone prostate awareness pamphlets and their money back.