"You can smell nothing but hops from the time you're there, it's amazing how strong it is. It's a bit like being in heaven I suppose!"
It's safe to say Gage Roads' head brewer Ross Brown loved his recent tour of hop farms across the United States. As he says, it's heaven for a brewer. But it's also a crucial gig, selecting hops and varieties from different farms that will shape the Gage Roads range of beers for the year ahead.
"We headed to the Yakima Valley in Washington State. It's where a large proportion of the US hops are grown. The three main hop suppliers are based there. It was an opportunity to visit each of those suppliers and check out their operations and to be able to select the hops that we're going to be using for the next twelve months or so," explains Ross.
"We select based on each variety that we are going to use, but within each of those varieties there's quite a spectrum of flavour as well. That might be dependent on the growing region, the particular farm where the hops are grown and also the time of harvest as well.
"From a brewing point of view it's got a huge impact on what we can do. One element of that is the flavour profile of the beers we're brewing, but also the consistency of those beers. Ultimately if someone is buying a Little Dove or Single Fin, they want it to be tasting the same every time. And I want it to be as full-flavoured as possible as well. By selecting these hops we can really set up the flavour profile that we're looking for and can ensure that the hops we are using as consistent over the entire year as well."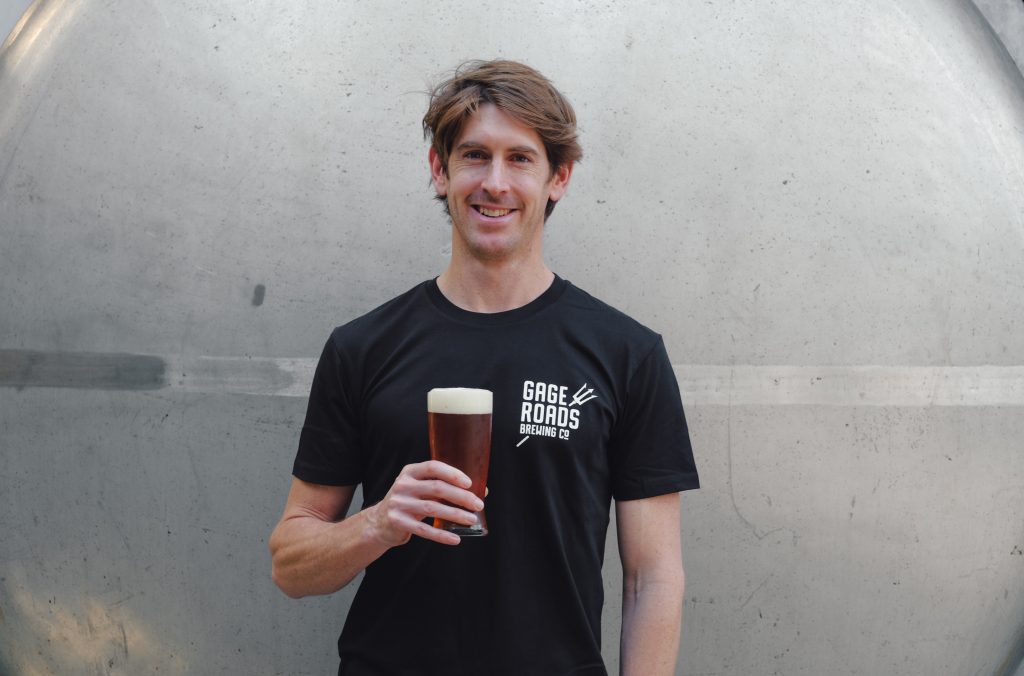 While Gage Roads sources hops from local Australian farms, there are a number of varieties only available from the United States. And that's the same for a range of other breweries. It means hop harvest turns Yakima Valley into an international brewer pilgrimage.
"There are a huge number of breweries that come in and obviously all the American guys are coming in to make their selection as well. There's a huge number of Aussies over there too, in the week we were in Yakima we must of seen at least 15 other Aussie breweries over there. It ends up being a bit of a reunion at a couple of bars each night. It's good fun and great to check out the local beers as well. With it being hop harvest, there are plenty of fresh hop beers out there too.
"I always try to get plenty of research done when I'm travelling. One I particularly liked was Bale Breaker in Yakima and the brewery is actually built in the middle of a hop farm. One of their IPA's, TopCutter was spot on the money. When you're in an area like that and you see it on tap at virtually every bar you go to, it's a pretty good sign. I think the breweries in that area have really good access to fresh hops and also that time of year they know there's a heap of brewers descending on the area, so they want to make sure they have their best beers available as well."
It doesn't take much for Ross to imagine what it'd be like brewing in Yakima Valley, with hop farms as neighbours. But he's quick to point out the amazing access and ingredients we have back at home.
"It would be awesome to have that access to hops right on your doorstep, but I think they'd be jealous of the Galaxy hops we have over here in Australia. You're always going to be interested in what everyone else has I suppose. The scale of it over there're is absolutely enormous. The main crops they have are hops, grapes and apples and that's the whole industry over there. You've just got rows and rows of hops, as far as the eye can see and the aroma in the air is next level."
With hop selection a key part of the trip, there's also plenty of innovation on the table. There's insight into top secret new hop varieties, breeding programs and technology on display and a range of innovation centres.
"The companies over there are always working on new and interesting varieties that offer different characters. We had the opportunity to try a number of different varieties at the innovation centres where they are testing and trialling and there a few of those varieties that we will look to use over the next six months or so. That's exciting. There's also some other products that they've developed over there as well that I think from a brewing perspective give you a lot of control over consistency and the yields that you're getting in the end product as well."
Speaking of end product, Ross can't wait to put these hops to use. And neither can we.